Air Conditioning and Furnace Tune-Ups in Charlottesville, VA
Schedule Your Charlottesville HVAC Tune-Up Today.
Summers in Charlottesville are hot and humid, with July temperatures in the high 70s. With temperatures like that, you want to make sure your AC is working properly. Preventative tune-ups prolong the life of your ac or furnace, reduce the risk of unexpected repairs, and keep energy bills low. Here at Michael & Son, our signature "Clean & Check" tune-up is one of the most comprehensive system checks in the state and will keep your system operating at peak efficiency all year long.
Reduces energy bills & the risk of breakdowns
Improves system efficiency & lifespan
Just $59 for our signature HVAC tune-up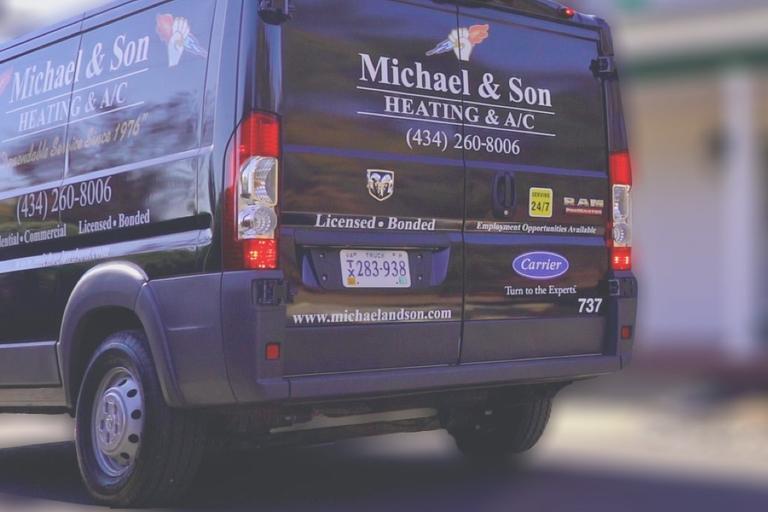 Price
What's the cost of an HVAC tune‑up in Charlottesville?
The HVAC tune-up costs vary from company to company—some charge up to $250 for an HVAC tune-up. At Michael & Son, we only charge $69 for our signature HVAC tune-ups (also called our "Clean & Check" service).
What's included in a $69 tune-up from Michael & Son?
Indoor Unit Tasks:

Disinfect work area
Check thermostat
Confirm system operation
Clean/replace/inspect air filter
Clean and inspect cabinet interior and exterior
Clean and inspect blower, blower motor, and blower compartment
Spray disinfectant inside blower compartment and return
Clean and inspect coil & pan & condensate drain
Check capacitor and all wiring/connections
Visual inspection of circuit boards
Check power switch or service disconnect
Check for proper voltage supply
Check all safeties are functioning
Check motor amps
Check for CO and smoke detection and safety
Visual inspection of all duct connections
Outdoor Unit Tasks:
Confirm operation
Remove and inspect disconnect
Clean and inspect inside cabinet and coil
Visually inspect fan blades and motor
Clean coil and unit with water & hose
Tighten and check all wiring and connections
Inspect and test capacitor
Inspect hard start or start assist
Check compressor and condenser fan amps and ratings
Verify all safeties are connected and working
Inspect refrigerant lines, valves and ensure they're capped properly
Review age, condition, efficiency, and expected problems, concerns
Process
Our Straightforward 5‑Step Process
Schedule your tune-up

Need a tune-up in Charlottesville, VA? Give us a call at Call (434) 260-8170 or schedule online, and one of our customer service reps will book you a service appointment ASAP. We always work to accommodate even the busiest of schedules.

Get to know your HVAC technician

The day before your expert AC technician arrives, you'll receive an email with your technician's photo, bio, and relevant trade licenses. We want our Charlottesville customers to be familiar with who will be working in their homes, so we always send a little info about our technicians beforehand.

We thoroughly inspect your HVAC system

Our technicians always arrive on time, ready to inspect and clean your HVAC system. Our technicians will wear protective shoe covers in your home at all times and lay down spotless drop covers to protect the workspace and keep your home clean.

Receive a written report on your system's health

After the tune-up, our technicians will provide you with a written report detailing your system's health. We'll let you know if additional work is recommended to prevent repairs later. Depending on your system's health, we can often do necessary repairs in the same visit, or you can schedule another time for us to return and get the job done.

Tell us how we did

Hopefully, the tune-up was a huge success, but if there is anything we could have done better, we want to know about it. Our team will be in touch with you to see how every aspect of the tune-up went. If you're not satisfied for any reason, we'll make it right.
Schedule your AC or furnace tune-up in Charlottesville today!