Whole-Home Rewiring in Charlottesville, VA
Schedule Your Whole-Home Rewiring Today.
Your home's electrical wiring plays a major role in your family's comfort, convenience and safety. You want to be able to count on exceptional electrical work done right the first time (and world-class customer service doesn't hurt either). That's why you should call Michael & Son. Our pros are licensed, insured and highly-experienced to take on any whole-home rewiring job.
Flexible financing
Upfront, honest pricing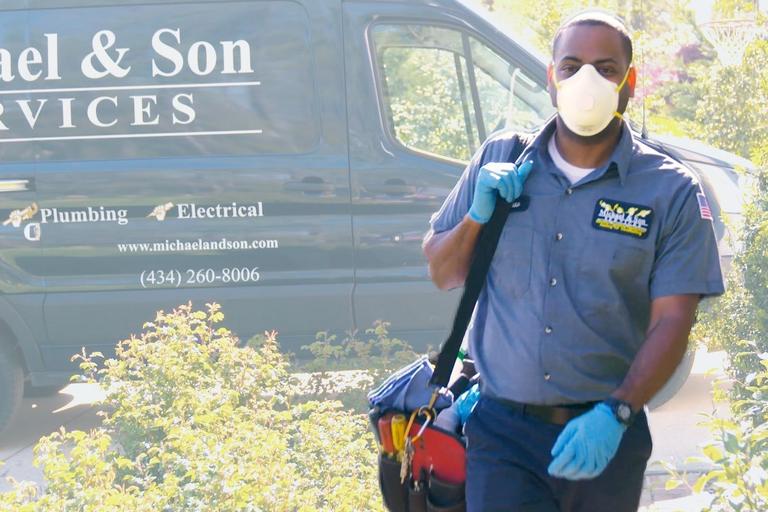 Price
How much does it cost to rewire a home in Charlottesville?
The cost of whole-home rewiring in Charlottesville can vary due to a variety of factors. For your custom quote, give us a call at (434) 260-8170.
How Michael & Son determines your estimate
We determine the size of your home. Larger homes will cost more to rewire than smaller homes. This is because bigger homes require more wiring and time, which can increase labor and material costs.
We identify the type of wiring your home has. Some older homes were originally wired using unsafe wiring methods, for example, the "knob and tube" method. In cases where our electricians will need to remove the individual tubes and knobs, which is more time consuming and tedious than other wiring methods, the whole-home rewiring price will typically increase.
Whether your home also needs a new electrical panel: If your home's electrical panels provide less than 100 amps, you'll likely need an upgrade. Today, most homes require an electrical panel that has 150–200 amps. An upgrade will increase the overall cost.
Process
Your whole‑home rewiring in four easy steps
Schedule your repair

Michael & Son has two convenient ways to schedule: online or by phone when you call (434) 260-8170. Both options will put you in touch with our customer relationship department, who will then schedule a time for one of our expert electricians to visit your in Charlottesville, VA home.

Meet your expert electrician

You'll have the opportunity to familiarize yourself with your electrician before the work begins. We'll send you an email with your electrician's name along with their photo, a short bio and a few fun facts about their background.

We'll handle the rewiring work

We'll get started right away. Our electricians know how to provide high-quality, up-to-code rewiring while preventing damage to your home.

Let us know how we did

Once we're confident that your wiring is in working order, we'll ask for your feedback on the job. Your opinion genuinely matters to us. And if the job wasn't up to your standards, we promise we'll do everything in our power to make it right.
Ready to Schedule Your Whole-Home Rewiring?