Septic Tank Installation in Charlottesville, VA
Schedule Your Septic Tank Installation Today.
Installing a septic system on your property is no small feat. The job typically requires professional testing, permits and complex equipment. To ensure the job is done right the first time around, trust Michael & Son. Whether you need to replace an aging septic tank system or install one for the first time, our plumbers have decades of experience. Best of all, our 3,000+ verified reviews speak to our commitment to honoring our promises and doing right by our Charlottesville customers, no matter how tough the job.
Special Financing Available
500+ commercial vehicles
Reliable, on-time service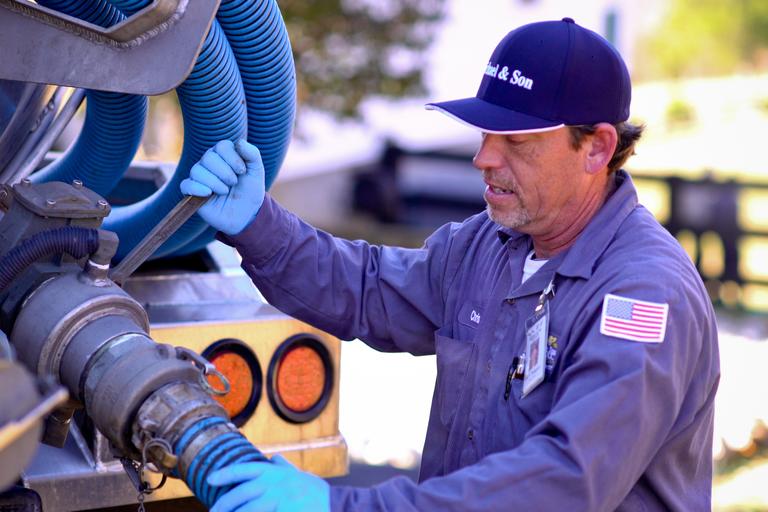 Price
How much does it cost to install a septic tank system in Charlottesville?
The majority of septic tank installations in Charlottesville tend to fall within this price range:
Low

$10,000

Our Average

$12,500

High

$14,000
How Michael & Son determines your estimate
We look at the size of your home. The size of your home and the number of plumbing appliances plays a big role in determining the size of the tank needed. Larger homes with more plumbing appliances typically need larger tanks—and the larger the tank, the higher the cost of the project.
We determine the type of system needed. Michael & Son has decades of experience recommending and installing the septic system that best fits your needs. The most common types of septic systems in Charlottesville include aerobic and anaerobic. Anaerobic systems typically cost less to install than more complex aerobic systems, however, they typically require more maintenance. Our team will walk you through your septic system options and help you choose the system that will keep the surrounding environment clean and your plumbing system safe.
We assess the soil conditions and any landscaping challenges. Excavation costs can vary from project to project and are determined by various factors such as soil composition, water table depth, etc. Our team will thoroughly assess your property's soil conditions to ensure fair pricing but also to plan out the least invasive excavation possible. Michael & Son has a variety of methods at our disposal for protecting your home's landscaping when installing a new septic tank.
Process
Your septic tank installation in five easy steps
Schedule your estimate

Whether you need a new septic system installed or an aging one replaced, Michael & Son is here to schedule your estimate whenever you're ready. Simply give us a call at (434) 260-8170 or schedule your estimate online. When you reach out, a friendly team member in our customer service division will assign an expert plumber to your project.

Meet your expert plumber

Michael & Son is committed to earning your trust, starting from the moment you first reach out. One of the ways we instill trust is by introducing you to your plumber before they ever arrive at your door. Prior to your scheduled on-site estimate, we'll send you the name, a photo and a brief bio of your plumber. Plus, we'll give you a quick courtesy call the day before your appointment to answer any lingering questions you may have.

Discuss your needs & get a quote

On the day of your scheduled estimate, your plumber will arrive promptly, begin assessing your home and discuss your septic system needs with you. We take the time to educate you on the details, considerations and pricing for all system options that might match your needs. We'll also make sure any special requests you have will be honored by our team. We always provide upfront pricing in writing so that there are no surprises.

Make an installation appointment

Once we've come to an agreement on the project specifics, our customer service division will work with you to schedule the installation. On average, a Michael & Son installation team will arrive 3-5 days after the initial consultation. Our team will handle all the paperwork, drawings and permits before the installation and will coordinate the required inspection once the septic tank is installed.

Let us know how we did

Whether the job was a huge success or you think there's something we could've done better, we want to know about it. If you had any issues at all, just let us know and we'll do everything we can to correct our mistake.
Ready to Schedule Your Septic Tank Installation?