Furnace Installations in Charlottesville
Schedule Your Furnace Installation Today.
With over 3,000 verified 5-star reviews and four decades of furnace installation experience under our belts, it's no wonder why hundreds of Charlotte residents choose Michael & Son every year for their furnace replacement needs. When you install with us, you're getting more than just licensed installers that know their stuff. You're also getting the best warranties and guarantees in the state, along with no-nonsense financing with interest as low as 0%.
Financing options with approved credit
Friendly NATE-certified techs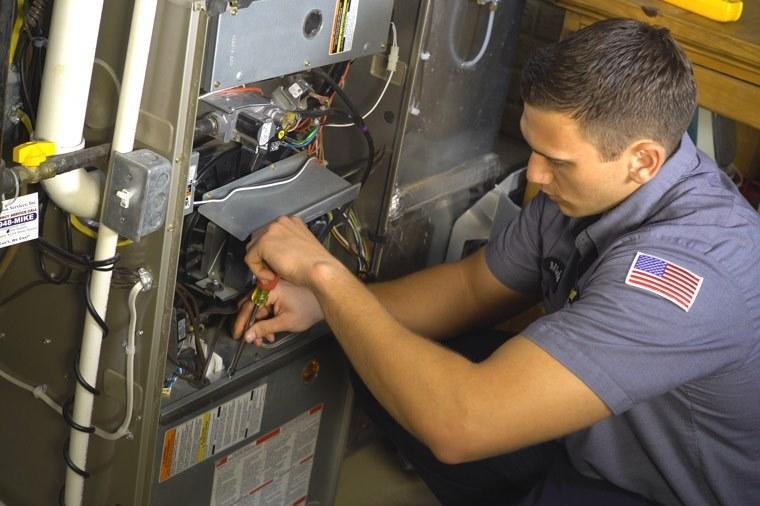 Price
What's the cost to install a furnace in Charlottesville?
The majority of furnace installations in Charlottesville tend to fall within this price range:
Low

$4,800

Our Average

$5,800

High

$8,000
How Michael & Son determines your estimate
We perform a load calculation. A Manual J-Load calculation allows our estimators to determine furnace size with precise accuracy. A correctly sized furnace is going to save you a ton of money in the long run on your energy bills. It's also completely free when you set up an estimate through Michael & Son.
We listen to what the homeowner wants. Some homeowners want the most efficient furnace possible for the energy savings and rebates. Others are more budget-minded. And others still want a system with the best manufacturer warranties. Regardless of what you're looking for, our installers are here to guide you toward the right system for you and your home.
We consider parts and labor warranties. Parts and labor warranties can be extended beyond the standard expiration date at an additional cost. While it's not for everyone, we do believe that extended warranties protect our customers for longer and have the potential to save them quite a bit in repair costs later down the road.
Process
Your furnace installation in five easy steps
Schedule your free estimate

Scheduling a furnace estimate with Michael & Son is easy. Just give us a call at (434) 260-8170 or schedule your appointment online. Either option will put you in touch with a friendly Michael & Son dispatcher, who will assign an experienced comfort engineer to your project.

Meet your comfort engineer

We want you to be acquainted with the person we're sending to your home before they arrive at your doorstep. We accomplish this by sending you an email or text with your comfort engineer's name, photo and relevant trade licenses, along with a few fun facts about their background.

Find the right furnace for your home

It's our highest priority to find a system that meets your family's needs. That's why we perform a Manual J-Load calculation during every free furnace installation estimate. Afterward, we'll discuss furnace models that best suit your home, and give you good, better and best options to choose from.

Get your system installed

When you install with Michael & Son, you're guaranteed a professional installation by licensed and insured HVAC experts. And like any expert, ours don't leave anything to chance. From the time we unload your brand new furnace to the final system check and clean-up before we leave, you're satisfaction is guaranteed 100%.

Let us know how we did

Your feedback is important to us. That's why we'll follow up with you after your installation is complete to make sure you're completely satisfied. We're happy to answer any remaining questions you have about the install, or even head back to your home if something didn't go quite right.

Ready to schedule your furnace installation?