Furnace Installations in Raleigh, NC
Schedule Your Furnace Installation in Raleigh Today.
Special Financing Available
NATE-certified technicians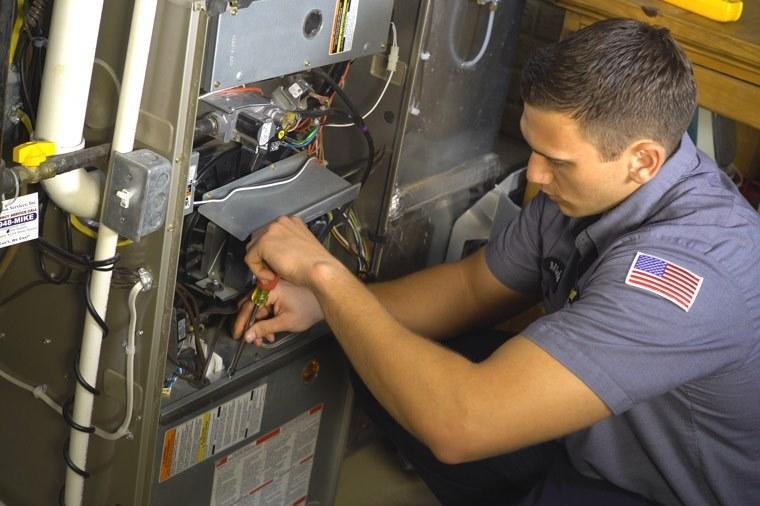 Service Details
Why choose us for your furnace installation?
The average winter temperatures in Raleigh, North Carolina range between 22°F to 43°F. With temperatures this chilly, it's essential to have an efficient heating system to keep you and your family warm, safe, and comfortable. If you're in the market for a new furnace, contact a trusted HVAC professional, like the team at Michael & Son. We offer 24/7 emergency service and fast turnarounds and have over 40 years of experience installing HVAC systems throughout northeast North Carolina and beyond. At Michael & Son, we understand that homeowners in Raleigh have endless choices regarding furnace installations, but when you hire us, rest assured that we will always treat your job like it's the only one that matters.
Price
How much is a furnace installation in Raleigh, NC?
The majority of furnace installations in Raleigh tend to fall within this price range:
Low

$3,000

Our Average

$5,000

High

$8,000
How Michael & Son determines your estimate
We determine the furnace size your home requires to operate efficiently. Furnace size has a key role in upfront and operational costs. The "larger" a furnace, the more expensive it is to install. However, the right furnace size is relative. Bigger furnaces do not necessarily mean better and faster heating. We'll conduct a load calculation to know what size furnace is appropriate for your home.
We discuss your wants and needs. After the load calculation, we will ensure we understand your goals and budget clearly. There are a lot of factors to consider that can impact the final cost of your furnace installation, such as the furnace's fuel type, efficiency, and comfort features.
We consider parts and labor warranties. Extended warranties for both parts and labor are considered an add-on to your furnace installation. Some Raleigh homeowners find the added protection worth the higher upfront cost.
Learn more about furnace installation

costs
Process
Get your furnace installed in 5 steps:
Schedule your free estimate

With Michael & Son, we make scheduling a furnace installation estimate easy for our Raleigh customers. Simply call us at (919) 278-7841 or schedule your appointment online, and an experienced comfort engineer will be assigned to your project.

Get to know your comfort engineer

We want you to be acquainted with the person we're sending to your Raleigh home before they arrive. That's why we always send you an email with your comfort engineer's photo, bio, relevant trade licenses, and some fun background information.

Find the right furnace for your home

Our number one priority is finding a furnace that meets your family's needs. To accomplish this, we'll perform a load calculation to determine the proper size furnace for your house. We always provide good, better, and best options of furnaces for you to choose from. And we never pressure you to choose one over the other.

We install your furnace

Once you've decided on a system, your comfort engineer will hand you an estimate that's good for 48 hours. If you approve, we'll schedule one of our professional furnace installation teams to finish the job within 3-5 days after your consultation.

Let us know how we did

Your feedback is important to us. That's why we'll follow up with you after your furnace installation to get your take on how the job went. If the furnace installation didn't meet your expectations, let us know, and we'll do everything we can to correct our mistakes.
Ready to Schedule Your Furnace Installation for Your Raleigh Home?