Central Air Conditioning Repairs in Raleigh, NC
Schedule Your Raleigh Air Conditioning Repair Today.
With Raleigh, NC summers being hot and muggy, and temperatures reaching mid-90s°F, a well-functioning AC system is crucial. For over 40 years, Michael & Son has provided quick, dependable AC repairs to homeowners in North Carolina's capital. Our AC experts can promptly diagnose and repair issues like non-functioning, continuously running, leaking, or hot air-blowing AC systems. We offer 24/7 emergency service and dispatch highly-qualified technicians in fully-stocked trucks. For AC repairs, call Michael & Son today!
99% of repairs completed the same day
NATE-certified technicians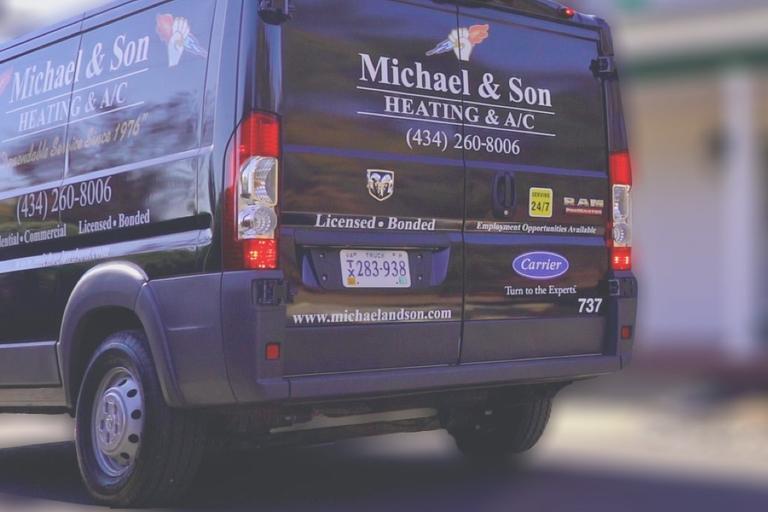 Price
What's the cost to repair an air conditioner in Raleigh, NC?
AC repair costs vary widely because so many factors impact the overall cost. However, the majority of central air conditioning repairs in Raleigh and throughout North Carolina tend to fall within this price range:
Low

$89

Our Average

$450

High

$900
How we determine your air conditioner repair quote
We carefully inspect your AC to diagnose the root issue accurately. One of the biggest factors contributing to your total repair cost is the price of the part(s) that need to be repaired or completely replaced. If the faulty component is inexpensive and relatively easy to install, your air conditioning repair costs will likely be lower. The overall costs can skyrocket though, depending on the total faulty components and the installation or repair complexity.
We estimate the amount of time for a job. Once we know the issue, we can accurately determine how long it will take to complete the repair. The number of hours gives us the total labor cost for each job.
We review the status of a system's warranties. Most air conditioning systems are installed with warranties. If your AC system and labor warranties are still valid, you can save serious money on your air conditioner repair.
Process
Your Raleigh air conditioner repair in 4 steps
Schedule your AC repair

Raleigh homeowners have two convenient ways to schedule: online or by calling us at (919) 278-7841. Both options will put you in touch with our customer service representatives, who will schedule your repair as soon as possible.

Get to know your repair technician

Before appointments, we always send an email to the customer that contains their technician's bio, photo, relevant trade licenses, and an interesting fact about them. That way, no customer feels like a total stranger is walking into their home.

We'll repair your AC system

Our technicians arrive on time and are equipped to handle 99% of all repair jobs in one visit. While at work, your technician will wear protective shoe covers inside your home and lay down spotless drop covers to protect the workspace. We want to ensure we leave your home as clean as we found it.

Tell us about your experience!

Once we're confident that your AC system is in working order, we'll request your feedback for the job. Your opinion sincerely matters to us. And if the job wasn't up to your standards, we promise we'll do everything we can to make it right.
Ready to Schedule Your North Carolina Central AC Repair?