Drain Clearing in Raleigh, NC
Schedule Your Drain Clearing in Raleigh Today.
Unexpected clogs in your plumbing and unpleasant odors from your drains are inconvenient and frustrating. Discovering that your sewer is backed up is even worse. Fortunately, Michael & Son's expert plumbers are available to Raleigh homeowners for 24/7 emergency drain clearing service! So, if you find yourself in need of assistance clearing out your bathroom or kitchen drains, give us a call. Our plumbers arrive fully equipped and on time to assess your drains and fixtures and get your plumbing back up and running fast.
24/7 emergency plumbing service
99% of repairs completed the same day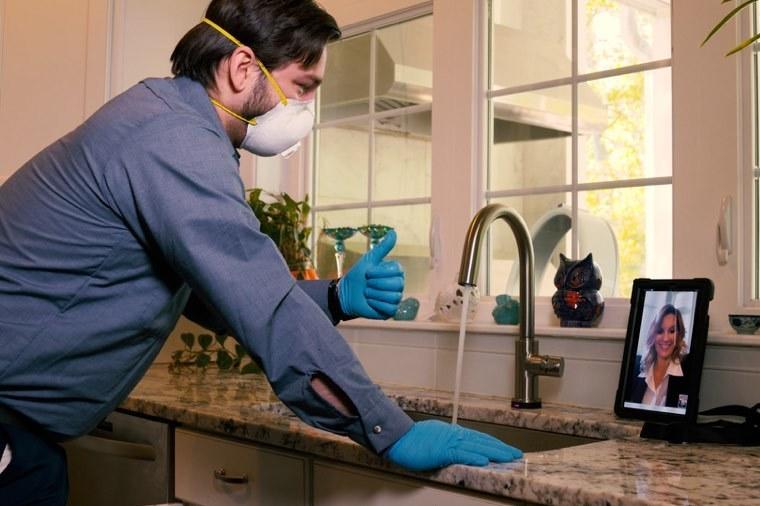 Price
What's the cost of drain clearing in Raleigh, NC?
While we can't give an exact estimate without an in-home inspection, we can say that the majority of drain clearings in Raleigh tend to fall within this price range:
Low

$249

Our Average

$499

High

$900
How do we determine the cost of your drain clearing?
Identifying the source. The price of your drain clearing can depend on where your clog is located and how difficult it is to access. There are two types of drains: a main line and a secondary drain line. A clog in your main sewer line will be more expensive to clear than a clog in your secondary line.
Determining the severity of the clog. Your cost can increase depending on how extreme or complicated your clog is. Generally, mild clogs (like hair, food, toilet paper, or hygiene products stuck in your drain line) can be easily removed with plumbing snakes or drain-cleaning cable machines. Tougher clogs (caused by fats, oils, or grease buildup) require more powerful tools and labor, increasing cost.
Using a video camera for inspection. If your plumber can't see the clog with their naked eye or is unsure of its exact location, a camera for inspection may be required, which can increase your cost.
Reviewing active warranties: We factor active plumbing warranties on parts or labor into the total estimate.
Process
Get your drain cleared in 4 steps:
Make an appointment

Give Michael & Son a call at (919) 278-7841, or use our easy online scheduling form to get your drains up and running in no time. Our customer service team will schedule an expert plumber to visit your Raleigh home at your earliest convenience.

Find out who your plumber will be

To ensure things run smoothly on the day of your drain-clearing appointment, we confirm your appointment beforehand and send you an email with information about your plumber. This email will typically include interesting facts about their background, their name, photo, and a short bio.

We clear your drains

Drain cleaning may seem very simple (you remove a piece of clog in your drain pipe), but in reality, there is more to it, and it's best left to professional plumbers. Our plumbers come prepared in fully-stocked trucks to attack the most stubborn clogs and dirtiest drains. But no matter how messy the job gets, our plumbers always use drop cloths and wear shoe covers to keep your home in tip-top shape.

Give us your feedback

We want to make sure your drain clearing experience went perfectly. That's why all of our plumbers request customer feedback after every job. If something went wrong, this is your chance to let us know so we can make it right.
Ready to Schedule Your Drain Clearing in Raleigh?