Central Air Conditioning Installations in Raleigh, NC
Schedule Your Raleigh AC Installation Today.
Don't suffer through another heat wave with a half-working air conditioner ever again. For over 40 years, Raleigh homeowners have trusted Michael & Son for quick, reliable air conditioning installations. Our comfort engineers provide multiple options, helping you choose the best system for your home. You'll also enjoy flexible financing on top Carrier comfort systems, free estimates, and a 100% satisfaction guarantee.
Special Financing Available
NATE-certified technicians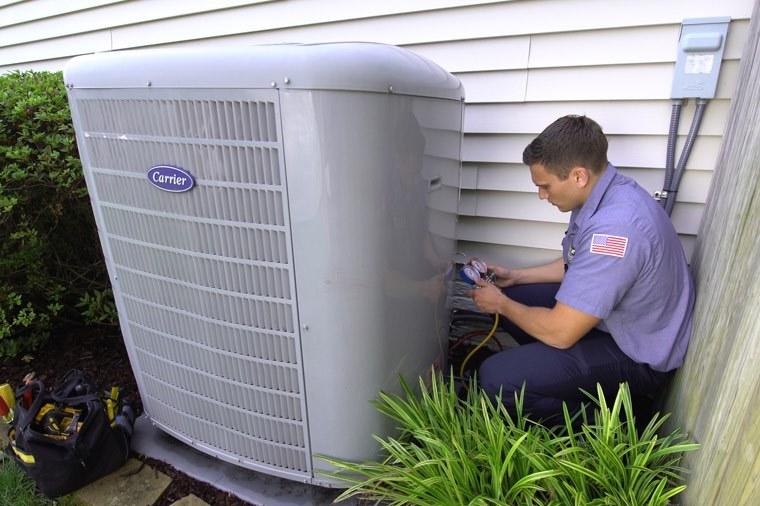 Price
What's the cost of installing an air conditioner in Raleigh?
The majority of central air conditioning installations in Raleigh tend to fall within this price range:
Low

$4,200

Our Average

$6,000

High

$9,500
How Michael & Son determines your estimate
We determine the size of AC you need. The best way to determine the ideal AC size for your Raleigh home is to have a professional perform a load calculation. Load calculations measure home size, insulation values, and the number of doors and windows, among other factors.
We listen to the homeowner's wants and needs. The higher an AC's efficiency, the larger the investment. Additionally, the more comfort features the system provides, the more it will cost. Before we make our recommendations, we will discuss your budget to ensure we find a system that offers everything you're looking for at a price that works for you. We'll ensure you get exactly what you want before any work is done.
We consider parts and labor warranties. Extended parts and labor warranties protect homeowners from paying out of pocket for repairs down the road. Keep in mind adding extended warranties also adds to the price estimate.
Process
Your air conditioner installation in 5 simple steps
Schedule your free estimate

Give us a call at (919) 278-7841 or schedule an appointment online. One of our friendly customer service reps will work with your schedule to find an appointment time with one of our experienced comfort engineers.

Meet your comfort engineer

The day before your comfort engineer arrives, you'll receive an email with their photo, bio, relevant trade licenses, and fun background information. We do this for all of our Raleigh homeowners because it's important that you feel comfortable about who will be working inside your home.

Find the right AC for your home

First, our comfort engineer will determine the ideal AC size for your home by conducting a load calculation. Next, they'll work with your budget and goals to identify the perfect cooling system. We always provide good, better, and best options for your air conditioner installation and will never try to sell you a system that you don't feel is the perfect fit.

Get your AC installed

After reviewing your options, you'll receive an estimate for your installation. Once you approve the estimate, we'll send a team of NATE-certified technicians to your Raleigh home within 3-5 days to install your new AC system. These technicians will protect your home like it's their own. Shoe covers are worn at all times, and drop cloths are placed down to protect your floor.

Let us know how we did

Whether the job was a huge success or there was something we could've done better, we want to know about it. One of the technicians on the job or your comfort engineer will be in touch with you to see how every aspect of the AC installation went. If you're not satisfied, we'll make it right.
Ready to Schedule Your Raleigh AC Installation?