Central Air Conditioning Installations in Greensboro, NC
Schedule Your Greensboro AC Installation Today.
Homeowners in Greensboro, NC, are fortunate to have numerous options for AC installations. However, Michael & Son is the go-to choice when it comes to trustworthy recommendations, fair pricing, and a wide range of energy-efficient AC systems, Michael & Son is the go-to choice.
0% interest financing options
NATE-certified technicians
Same-day repairs on 99% of jobs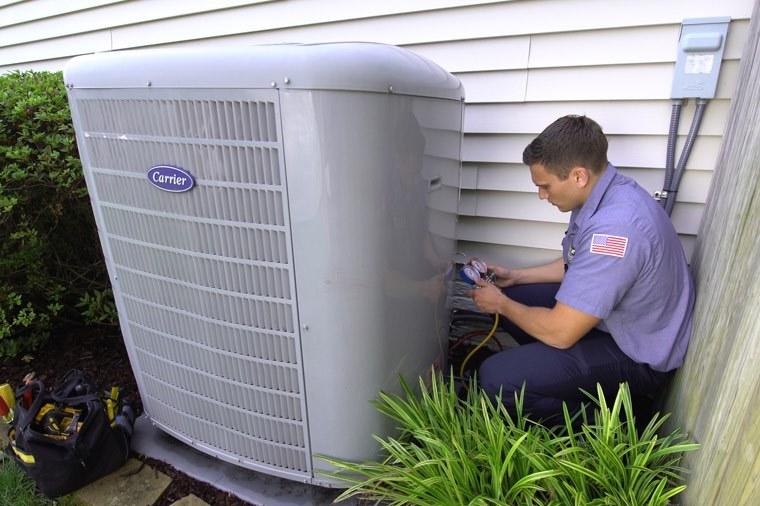 Service Details
Why choose us for your air conditioning installation?
Our team of NATE-certified comfort engineers brings years of experience in AC installation and replacement, dedicated to helping you select the perfect system for your home. At Michael & Son, we offer flexible financing options tailored to the best Carrier comfort systems. We aim to make the process convenient for you with quick and hassle-free scheduling.
If you're ready to bid farewell to your old, outdated AC system and enhance your home's comfort and air quality, don't hesitate to call us today. We're here to provide exceptional AC installation services that Greensboro homeowners can rely on.
Price
How much does a central air conditioner installation cost in Greensboro?
The majority of central AC installations in Greensboro tend to fall within this price range:
Low

$4,200

Our Average

$6,000

High

$9,500
How Michael & Son calculates your estimate
We determine the right size AC. Our first step is conducting a meticulous load calculation, assessing the size of the areas that will be serviced by the air conditioner. This calculation takes into account various factors, such as your home's size, insulation values, and the number of doors and windows. This valuable information allows us to determine the optimal size of the AC unit that will provide ideal performance and efficiency for your Greensboro home.
We get to know your needs. We take the time to get to know your needs, as we understand that Greensboro homeowners have diverse priorities when it comes to AC installations. For some, energy efficiency takes precedence, and they are willing to invest more for long-term savings. Others prioritize budget-conscious options to meet their financial goals. And then there are those who desire additional features like new thermostats, air purifiers, and various add-ons. Our team is committed to catering to your unique preferences.
We consider parts and labor warranties. Adding extended warranties adds to the price estimate. However, extended parts and labor warranties protect homeowners from paying out of pocket for repairs down the road.
Process
5 Steps To Your Expert AC Installation
Schedule your free estimate

When you're ready to explore your AC installation options in Greensboro, simply reach out to us at (336) 278-1258 or schedule an appointment online. Our friendly customer service representatives will work with your schedule to find a convenient time. We'll ensure that one of our experienced comfort engineers can meet you.

Meet your trusted comfort engineer

To ensure your peace of mind, we provide a personalized touch. Before our comfort engineer arrives at your doorstep, you'll receive an email introducing them with their photo, bio, relevant trade licenses, and even some fun background information. Building trust is important to us, and we want you to feel comfortable with the person working inside your home.

Select the right AC for your home

Your comfort engineer will start by conducting a load calculation to determine the ideal AC size for your home. Then, they'll work closely with your budget and goals to identify the perfect cooling system. We believe in transparency, providing good, better, and best options for your air conditioner installation. Our goal is to find the system that feels like the perfect fit for you.

Professional AC installation

Once you've reviewed and approved the estimate, our team of NATE-certified technicians will swing into action. Within 3-5 days, they'll arrive at your Greensboro home to install your new AC system. With utmost care and respect, our technicians will treat your home as their own. They'll always wear shoe covers, and drop cloths will protect your floors throughout the installation process.

Feedback matters to us

Your satisfaction is our priority. We value your feedback, whether it's about a job well done or areas where we could improve. Expect a follow-up call to discuss every aspect of the air conditioner installation. If there are any concerns or you're not completely satisfied, we'll make it right. Your happiness is our ultimate goal.
Ready to Schedule Your Greensboro AC Installation?