Heat Pump Installations and Replacements in Greensboro, NC
Top-Quality Heat Pump Installations in Greensboro
At Michael & Son, we understand the importance of efficient heating and cooling solutions for your home or business. With our expertise and commitment to customer satisfaction, we ensure a seamless and hassle-free heat pump installation process.
0% interest financing options
NATE-certified technicians
500+ service trucks on the road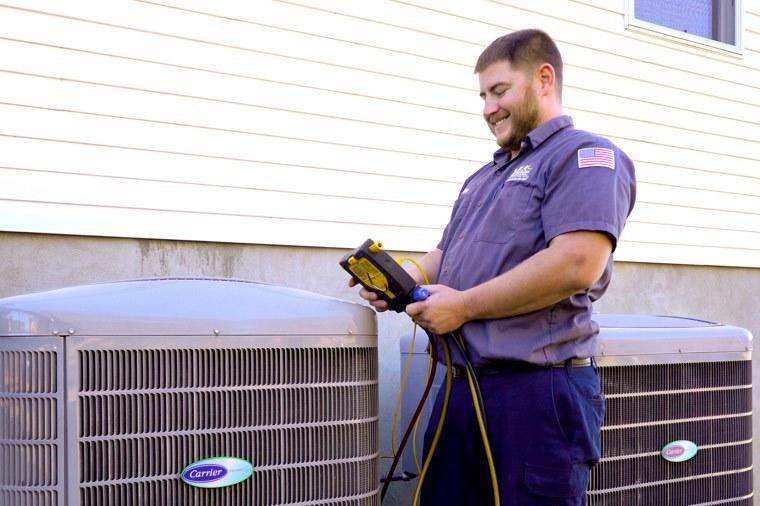 Service Details
Upgrade Your Heating and Cooling with Professional Heat Pump Installation in Greensboro
Are you a Greensboro, NC, resident searching for a high-efficiency heating and cooling solution for your home? Look no further than Michael & Son for all your heat pump installation and replacement needs. Heat pumps are an ideal choice for homeowners in North Carolina, providing both heating and cooling capabilities while helping to reduce energy costs. With our mild winter weather, heat pumps are well-suited for Greensboro, and at Michael & Son, we offer exceptional deals on the latest Carrier systems and convenient 0% financing options. Our efficient installation process ensures that 99% of our jobs are completed in under one day, allowing you to enjoy the benefits of your new heat pump promptly. Trust us to provide you with reliable and cost-effective heating and cooling solutions tailored to the unique climate of Greensboro.
Price
What's the cost to install a heat pump in Greensboro, NC?
In Greensboro, most heat pump installations fall within this price range:
Low

$7,500

Our Average

$10,000

High

$18,000
How Michael & Son determines your estimate
At Michael & Son, we understand that every home and homeowner in Greensboro, NC has unique heating and cooling needs. That's why we consider several factors when determining your heat pump estimate:
Accurate heat pump sizing: To ensure optimal performance and efficiency, we perform a thorough "load calculation" to determine the appropriate tonnage for your heat pump. This calculation considers your home's size, insulation, orientation, and local climate. By accurately sizing the heat pump, we can provide a system that effectively cools your home in the summer and keeps it warm in the winter.
Efficiency and cost: We offer a range of heat pump options with varying levels of efficiency. While higher-efficiency systems may have a higher upfront cost, they can save you money in the long run through reduced operational costs. Our team will work closely with you to discuss the options and find a system that balances energy efficiency and cost-effectiveness, aligning with your needs and budget.
Comfort features: We understand that comfort is essential to your indoor environment. We can discuss various comfort features in heat pump systems, such as variable-speed cooling, sound-muffling devices, and enhanced temperature control. We'll help you choose the features that enhance your comfort while considering the associated costs.
Parts and labor warranties: For added peace of mind, we offer extended warranties for both parts and labor. While these warranties come at an additional cost, they provide valuable protection and coverage in case of future issues with your heat pump system. We can explain the warranty options available and help you decide if this added protection aligns with your preferences.
Process
Your Greensboro heat pump installation in 5 simple steps
Schedule your estimate

Take the first step towards your heat pump installation by contacting us at (336) 278-1258 or conveniently schedule your appointment online. Our dedicated Michael & Son customer service team will promptly assist you and confirm your appointment with an experienced comfort engineer.

Get to know your comfort engineer

We believe in fostering a personal connection, so we provide you with an email introducing your assigned comfort engineer. This email includes their photo, bio, relevant trade licenses, and interesting background information. This way, you can familiarize yourself with the professional working in your home.

Choose the perfect heat pump for your home

Your comfort engineer's primary goal is to identify the ideal heat pump for your Greensboro home. They will perform a quick load calculation to determine the appropriate system size. Working closely with you, they will consider your budget and goals for the new system. Finally, you'll have the opportunity to choose from a range of good, better, and best options to make the final decision.

We install your new heat pump

Once you receive a price estimate valid for 48 hours and agree to proceed, our NATE-certified technicians will arrive at your home within 3-5 days to install your new heat pump. We prioritize cleanliness and protection, ensuring that our technicians always wear shoe covers and place drop cloths to safeguard your floors.

Share your honest feedback

We genuinely value your feedback and strive for continuous improvement. Following the completion of the installation, one of our technicians or your comfort engineer will reach out to you to gather feedback on every aspect of the job. We want to ensure your complete satisfaction, so if there is any reason you are not entirely happy, we will make it right.
Schedule Your Greensboro Heat Pump Installation or Replacement Today