Heat Pump Installations and Replacements in Frederick, MD
Frederick's Leading Heat Pump Installations & Replacements
Interested in an energy-efficient alternative to your furnace/ac combo? Heat pumps are the perfect choice! Heat pumps reduce energy bills and keep your home warm or cool all year long. And when compared to a furnace/AC replacement, they're more cost-effective to buy, too. Michael & Son offers great deals on the latest Carrier heat pumps and 0% financing options. We also have most installs finished in just one day. So, if you're ready to increase your comfort and reduce energy costs, call Michael & Son today!
0% interest financing options
NATE-certified technicians
Upfront, honest pricing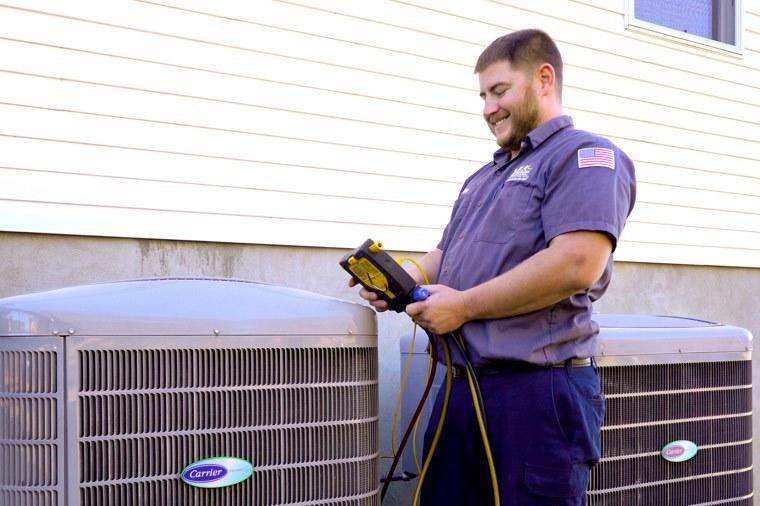 Price
What's the cost of installing a heat pump in Frederick?
In Frederick, Maryland, most heat pump installations fall within this price range:
Low

$8,500

Our Average

$12,000

High

$18,000
How Michael & Son determines your estimate
The heat pump's size. Most residential heat pumps range between 1 and 5 tons. The only way to determine the correct size heat pump for your Maryland home is to have a professional perform a "load calculation" to measure how much heat your home typically accumulates or loses in an hour. We'll use this calculation to match your home with the appropriate tonnage to keep your home cool in the summer and warm in the winter.
The system's efficiency. Higher-efficiency heat pumps cost more than less-efficient heat pumps. However, more efficient heat pumps can save money in the long run via lower operational costs. We'll go over various options with you to find the best system to suit your needs and budget. We always ensure you sign off on everything before any work is performed.
The system's features. The more comfort features a heat pump system has, the more it will cost. Higher-end heat pump models often come with more "comfort" features. Some standard comfort features include higher cooling speeds (variable-speed systems) or sound-muffling devices. Sometimes, comfort features aren't necessarily built into the unit and are added at installation time.
Parts and labor warranties. Extended warranties for parts and labor are considered an add-on to your heat pump installation. Some Frederick homeowners find the added protection worth the higher upfront cost.
Process
5 Quick Steps to your Heat Pump Installation
Set your appointment

To get the ball rolling on your heat pump installation, call us at (240) 608-4020 or schedule your appointment online. Both options will put you in touch with our Michael & Son customer service department, who'll confirm your appointment with an experienced comfort engineer.

Get to know your installer

We want you to be acquainted with the person we're sending to your home before they arrive. That's why we always send you an email with your comfort engineer's photo, bio, relevant trade licenses, and some fun background information.

Choose the perfect heat pump

Your comfort engineer wants the best heat pump for your Frederick home. To accomplish this, they'll perform a quick load calculation to determine the proper system size. Next, they'll work with you to identify a budget and goals for the new system. Last, you'll make the final decision based on a good, better, best option.

Have your heat pump installed

Your comfort engineer will give you a price estimate that's good for 48 hours. If you agree, we'll send a team of NATE-certified technicians to your home within 3-5 days to install your new heat pump. Shoe covers are worn at all times, and drop cloths are placed down to protect your floor.

Give us your feedback!

Whether the job was a huge success or there was something we could've done better, we want to know about it. One of the technicians on the job or your comfort engineer will be in touch with you to see how every aspect of the job went. If you're not satisfied, we'll make it right.
Schedule Your Frederick Heat Pump Installation or Replacement Today