Expert Heat Pump Repairs in Frederick, MD
Schedule Your Heat Pump Repair in Frederick Today.
Experiencing an unreliable heat pump or issues with heating or cooling? Like any system, heat pump components wear out and fail over time. Call Michael & Son for fast, same-day service and 24/7 support in Frederick. Our licensed, insured, and NATE-certified technicians guarantee high-quality repairs. When your heating system requires prompt, trustworthy repairs, choose Michael & Son in Frederick for dependable service.
99% of repairs completed the same day
NATE-certified technicians
Upfront, honest pricing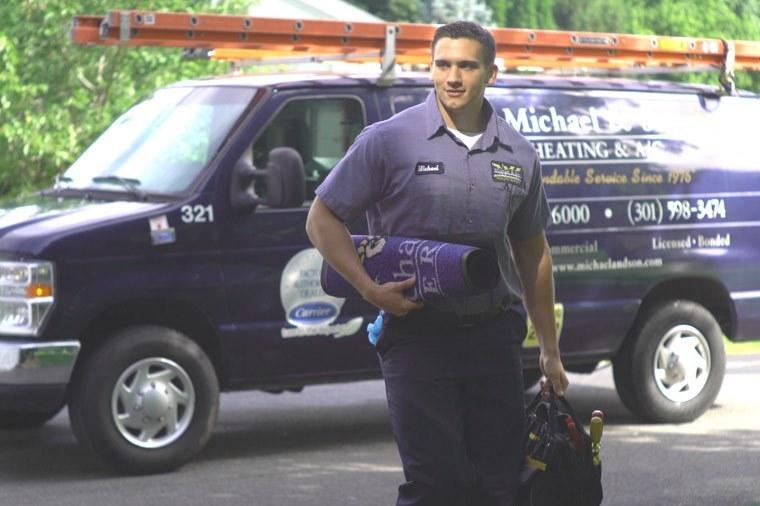 Price
What's the cost of repairing a heat pump in Frederick?
A heat pump repair in Frederick, MD, typically falls within this price range:
Low

$89

Our Average

$450

High

$900
How Michael & Son determines your repair quote
We determine if replacement parts are needed. The more replacement parts required for your repair, the more the repair will cost. More complex parts are typically more expensive. More common parts have reasonable repair prices. But as your heat pump ages, complex parts start to fail, and the price of replacing these parts starts to add up.
We calculate the amount of labor required. The more labor-intensive the repair, the higher the overall cost. You're essentially paying for a certified HVAC technician's skill set, experience, and training. That's why it's essential to choose a contractor who is experienced, NATE-certified, and knowledgeable about your particular heat pump model. You won't have much control over how much labor your repair requires. However, you DO have control over the quality of the technician/contractor that you choose.
We review the status of a system's warranties. If your labor or manufacturer's warranty is still valid (or better yet, if both are still valid), your out-of-pocket costs for your heat pump repair will be much lower.
Process
4 Simple Steps to your Heat Pump Repair
Set your repair appointment

It's easy to schedule a heat pump repair with Michael & Son. Call us at (240) 608-4020 or use our easy online scheduling form. Both options will put you in touch with our customer service department, which will schedule your repair.

Review your technician's bio

The day before the appointment, Michael & Son will call to confirm your service appointment and email your technician's bio, photo, relevant trade licenses, and a fun fact about their background. We always want our customers to feel comfortable with the technician entering their homes.

Relax while we repair your heat pump

When your NATE-certified technician arrives at your Frederick home, they'll have everything they need to complete the job. They will come with replacement parts and components, shoe covers, and drop cloths to protect your flooring.

Give us your honest feedback!

We want you to have a great experience with Michael & Son. That's why all our technicians will ask you for your feedback as they finish the job. This feedback helps us become a better company. And if something goes wrong, it gives us a chance to correct our mistakes.
Call For Your Frederick Heat Pump Repair Today!