Garbage Disposal Installations in Frederick, MD
Book your Garbage Disposal Installation in Frederick today!
If your garbage disposal is not working correctly, acting quickly to prevent further problems is essential. At Michael & Son, we offer reliable installation services for your new garbage disposal in Frederick. Take advantage of our flat-rate, upfront pricing, and honest installation estimates. We have over 10,000 verified reviews, ensuring you receive top-notch service from our team. Contact us today to schedule your garbage disposal installation!
Flat rate, up-front pricing
24/7 emergency plumbing service
Reliable, on-time service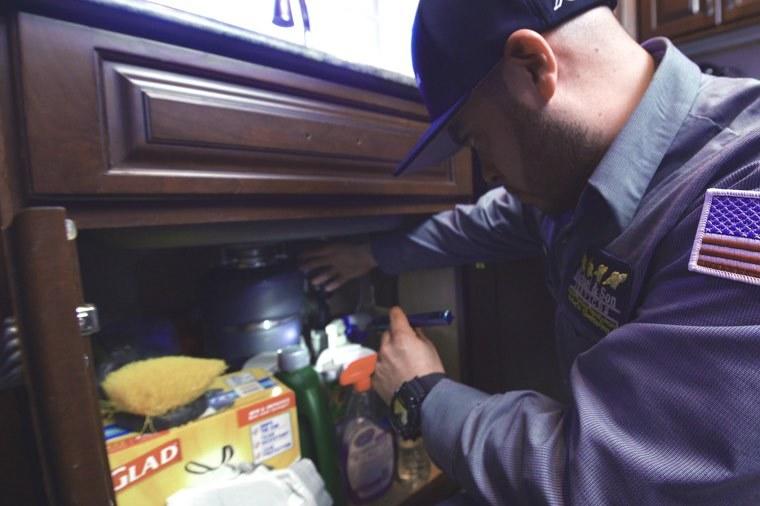 Service Details
Top‑notch garbage disposal installation services in Frederick, MD
If you're experiencing frequent clogs in your garbage disposal or notice unusual noises, leaks, or slower grinding, it's likely time for a replacement. Fortunately, Michael & Son has been delivering exceptional plumbing and home services to Maryland homeowners for over four decades. Our team of highly skilled and trained plumbers has established us as one of Frederick's most dependable plumbing and home service providers. Whether you require a new garbage disposal installed or serviced, our plumbers are available for 24/7 emergency service.
Price
How much is a garbage disposal installation in Frederick?
Typically, the price range for a garbage disposal installation in Frederick falls between these amounts:
Low

$465

Our Average

$835

High

$1,095
How do we determine your quote for a garbage disposal installation in Frederick?
The feed type. Firstly, we look at the type of garbage disposal you want - continuous or batch feed. Continuous feed disposals are more popular in North Carolina and tend to be less expensive to install. Batch feed disposals, on the other hand, require a stopper lid to turn on and are considered safer but are usually more expensive to install.
The size of the motor. Next, we consider the size of the motor, measured in horsepower (HP). Smaller motors between ⅓ and ½ HP are best for households with 1-4 people and are less expensive to install. However, they may need repairs more frequently due to jamming. If you have a larger household or plan to use your disposal frequently, we recommend a motor size between ¾ and 1 HP for smoother operation, but this will increase the installation cost.
The type of steel used. Finally, we consider the type of steel used. Stainless steel disposals are more expensive to install but are more durable in the long run. Galvanized steel disposals are cheaper to install, but they are more prone to corrosion and rust, which could lead to higher repair costs over time.
Read more about the cost to install a garbage

disposal
Process
4 quick steps to your Frederick garbage disposal installation
Schedule your installation easily

You can schedule your garbage disposal installation by calling the provided phone number or using the online scheduler. Our customer service specialists will assign a skilled plumber from Frederick to complete your installation.

Get to know your plumber

Before your plumber arrives, we will send you an email with their name, photo, bio, and any relevant trade licenses. We will also give you a reminder call the day before your appointment to ensure you feel comfortable with the plumber.

Garbage disposal installation

To select the best garbage disposal for your household, we will assess your family's size, usage, and safety concerns. Your plumber will then make installation recommendations. Once you have approved the estimate and selected the desired garbage disposal, we will schedule the installation. We can typically complete the installation within one day.

Provide your valuable feedback

Your feedback is vital to us, and we want to hear from you. At the end of every job, our Frederick plumbers will request your honest feedback. We strive to ensure you are completely satisfied with our service and will do everything possible to address any concerns you may have.
Professional garbage disposal installation services in Frederick.