Whole-home rewiring in Greensboro, NC
Enhance Your Home's Electrical Infrastructure with Professional Rewiring in Greensboro
We offer a comprehensive range of whole-home rewiring services to address outdated or unsafe electrical systems. Whether your home is experiencing flickering lights, frequent electrical surges, outdated wiring, or you're planning a renovation, our experts have the skills and tools to rewire your entire home efficiently and effectively.
Skilled and licensed electricians
Upfront, honest pricing
Flexible financing with approved credit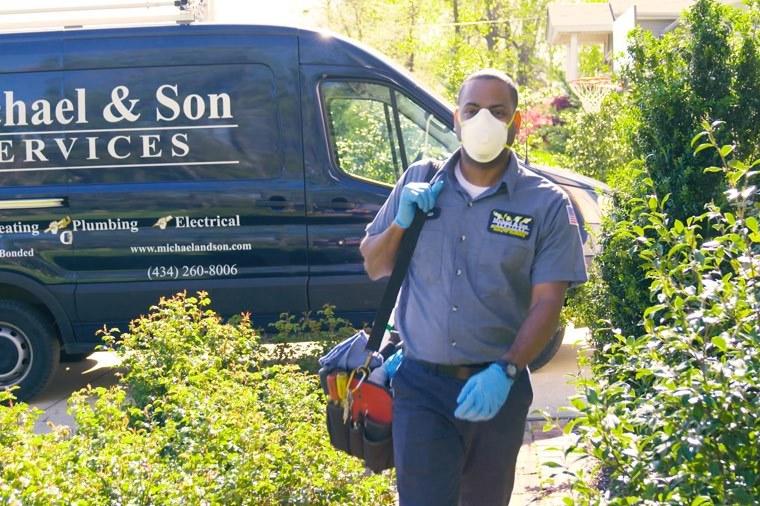 Service Details
Why choose us for your whole‑home rewiring?
When you choose us for your whole-home rewiring needs, you gain access to a team of highly trained and licensed electricians with extensive knowledge and experience in this specialized field. We take great pride in delivering exceptional service that consistently exceeds your expectations. With Michael & Son, you can have complete confidence that your electrical system will be rewired with the utmost care and expertise.
At Michael & Son, we place a strong emphasis on safety and strict compliance with electrical codes and regulations. Our electricians thoroughly assess your home's electrical system, diligently identifying any potential hazards or areas requiring improvement. We adhere to industry best practices and exclusively utilize high-quality materials, ensuring that your rewired electrical system is safe and built to last.
Plus, we understand that whole-home rewiring can disrupt your daily routines, causing inconvenience. That's why our dedicated team works tirelessly to minimize disruptions during rewiring. We maintain transparent and open communication, providing a clear timeline and keeping you informed at every stage of the project. We aim to complete the rewiring project efficiently while never compromising on the craftsmanship and attention to detail we are known for.
Price
How much does it cost to rewire a home in Greensboro?
The cost of whole-home rewiring can vary due to a variety of factors. For your custom quote, give us a call at (336) 278-1258.
How Michael & Son determines your estimate
Several cost factors can impact the price of a whole-home rewiring project in Greensboro, NC, including:
Size and complexity of the property: The size of your home and its electrical system complexity plays a significant role in determining the cost. Larger homes with more rooms and electrical circuits may require more materials, labor, and time for rewiring, resulting in higher costs.
Wiring materials: The type and quality of wiring materials chosen for the rewiring project can affect the overall cost. Higher-quality materials, such as copper wiring, may be more expensive but offer better durability and electrical performance.
Accessibility and ease of installation: The accessibility of your electrical wiring system can impact the cost. If your home has difficult-to-reach areas, tight spaces, or limited access to wiring, it may require more effort and time to complete the rewiring, leading to higher costs.
Electrical panel upgrades: In some cases, a whole-home rewiring project may require upgrading the electrical panel to accommodate increased electrical loads and modern safety standards. The cost of panel upgrades can contribute to the overall project cost.
Local permits and inspections: Obtaining necessary permits and undergoing inspections from local authorities are typically required for whole-home rewiring projects. Permit fees and inspection costs vary by location and should be factored into the total project cost.
Process
Your whole‑home rewiring project in 4 steps
Schedule your hassle-free appointment

Scheduling your whole-home rewiring appointment with Michael & Son is effortless. You can choose to book online or call us at (336) 278-1258. Either way, our dedicated customer relationship department will assist you in setting up a visit from one of our expert electricians to your Greensboro home.

Meet your licensed electrician

We believe in building trust and familiarity, so we'll send you an email introducing your assigned electrician before the work commences. This email will include their name, a photo, a brief bio, and interesting background facts. It's important that you feel comfortable and confident with the electrician working in your home.

Leave the rewiring work to us

Once we've made the necessary preparations, our skilled electricians will promptly begin the rewiring process. With their expertise and meticulous attention to detail, you can expect high-quality rewiring that meets all safety codes and regulations. Rest assured, we take every precaution to prevent damage to your home.

Share your valued feedback

We genuinely value your feedback and want to ensure your satisfaction. After we've completed the rewiring work and ensured everything is functioning correctly, we'll kindly request your feedback. Your opinion matters greatly to us, and if, for any reason, the job falls short of your expectations, we promise to go above and beyond to make it right.
Your Partner for Safe and Efficient Whole-Home Rewiring in Greensboro