Schedule Your Well Pump Installation Today.
If you're in need of well water service in Greensboro, look no further than Michael & Son! Our highly-trained, experienced plumbers are experts in the field and have the skill to handle all of your well pump installation needs. No matter the specifics of your situation, you can count on our pros to provide you with honest, upfront estimates and excellent work. Don't just take our word for it, check out our
Flat rate, up-front pricing
Free installation estimates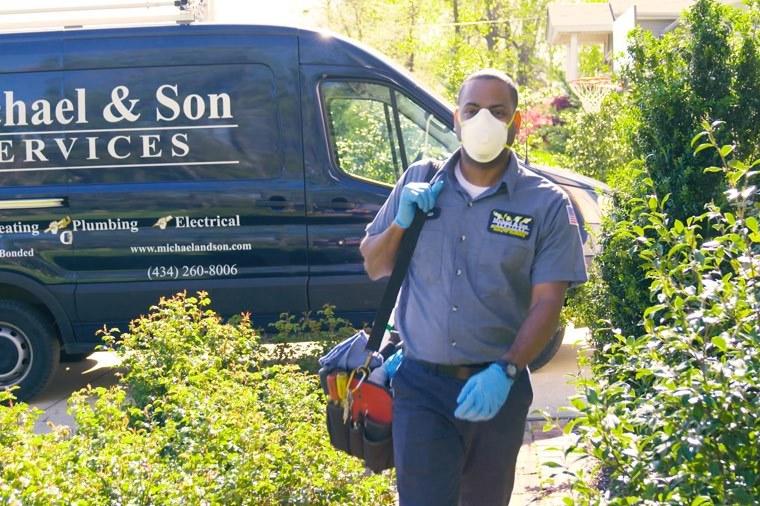 Price
What's the cost to install a well pump in Greensboro
The overall cost to install a well pump can vary depending on a few factors, including the type of well pump you choose to install, the depth of the well and the company or contractor you hire. However, the majority of well pump installations tend to fall within this price range:
Low

$4,300

Our Average

$5,500

High

$7,800
How Michael & Son determines your quote
The type of well pump. There are three common types of well pumps: jet pumps, submersible pumps and solar-powered pumps. All three types of pumps will generally work for both shallow and deep wells, but if you have a deeper well, you'll likely need a larger motor, which will increase your overall cost regardless of the type of pump you choose. One of our plumbers can help you determine the best type of well pump for your home.
The depth of your well. The deeper your well, the more your well pump installation will likely cost. This is because deeper wells typically require larger well pump motors and longer wiring, which cost more. Shallow wells are classified as 25 feet deep or less, whereas deep wells range between 25 and 150 feet. To determine how deep your well is and how the depth will affect the cost of your well pump installation, a licensed plumber can provide you with an estimate. We service wells as deep as 400-600 feet below ground in some areas.
We calculate the number of hours for a job. Sometimes, well pump installations can be complex and time-consuming, like in the case of unusually deep wells. If this is the case, we'll provide you with an upfront estimate and clearly outline the cost of labor.
Process
4 simple steps to your well pump installation
Schedule your well pump installation

Call us at (336) 278-1258 or schedule an appointment with us online. Our customer relations specialists will schedule an appointment for one of our licensed plumbers to visit your home.

Meet your expert plumber

We want to ensure that you're comfortable with the plumber who will be installing your brand-new well pump. So, we'll send you an email with your plumber's name, photo and a short bio before your appointment.

We install your well pump

Once you've finalized which well pump you want and have agreed to the estimate we've provided, we'll schedule an installation time. Most of the time, we can install your well pump in just one day.

Let us know how we did

Your opinion matters to us...and we mean that. As soon as we finish your well pump installation, we'll ask for your feedback on how we did. If the service wasn't what you were expecting, let us know. We'll do whatever it takes to ensure your 100% satisfaction.
Ready to schedule your well pump installation?