Well Pump Installation Services in Richmond, VA
Book Your Richmond Well Pump Installation Now.
Tailored to the specific requirements of Richmond residents, our well pump installation service offers expert and high-caliber solutions for your well system.
Flat rate, up-front pricing
Honest installation estimates
Reliable, on-time service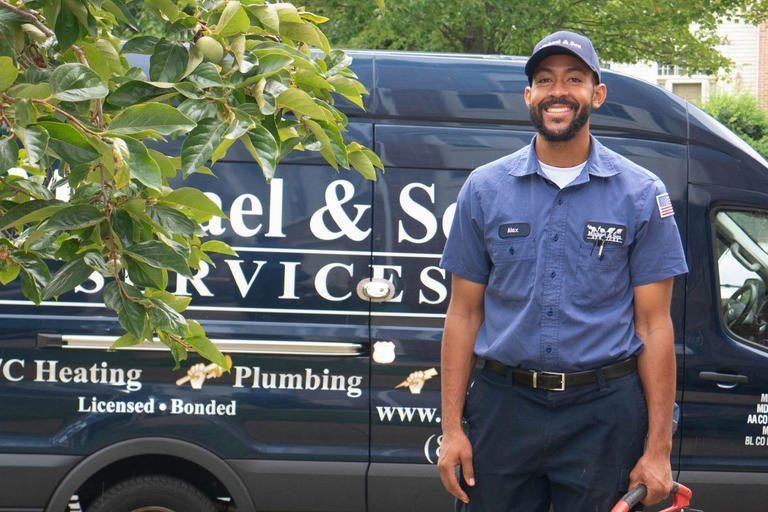 Service Details
Top‑Notch Well Pump Installation Services in Richmond
Michael & Son recognizes the critical role a dependable and effective well pump plays in maintaining a consistent flow of clean water to your residence. Leveraging years of hands-on experience, our technicians are experts in the full spectrum of well pump installations. Whether you're looking to install a brand-new well pump or need to replace an existing one, you can count on our team to execute the task with meticulous care and speed.
Price
What's the cost of installing a well pump in Richmond, VA?
The cost of well pump installation can differ based on several factors, such as the type of pump, the depth of the well, and the contractor you hire. In Richmond, the cost typically falls within this range:
Low

$4,400

Our Average

$5,600

High

$7,900
How Michael & Son Breaks Down Your Richmond Well Pump Estimate
Types of Well Pumps: We provide a variety of well pumps, including jet, submersible, and solar-powered options. Each has its benefits and is suited for wells of varying depths. Our knowledgeable technicians will assist you in choosing the ideal pump that aligns with your specific requirements, guaranteeing top-notch efficiency and performance.
Assessing Well Depth: The depth of your well is crucial in calculating the installation cost. Deeper wells often necessitate more powerful pump motors and additional wiring, thereby increasing the total cost. Shallow wells usually reach about 25 feet, whereas deep wells can range from 25 to 150 feet. In certain areas, we even service 400-600 feet deep wells. Our certified plumbers will evaluate your well's depth and offer a comprehensive estimate that includes all equipment and installation needs.
Estimating Labor Time: The intricacy and depth of your well can influence the duration of the installation. Jobs involving exceptionally deep wells or complex setups may require extra labor hours. We maintain transparency by clearly itemizing the projected labor costs in your estimate. Rely on our seasoned team for a proficient and timely installation.
Process
Well Pump Installation in Richmond: A 4‑Step Easy Process
Schedule your appointment

Reach out to us today at (804) 465-6453 or use our hassle-free online booking system. Our attentive customer service team will help you arrange a visit from one of our certified plumbers to your Richmond residence.

Meet your trusted plumber

Trust and comfort are key when it comes to installing your well pump. Before your scheduled appointment, we'll send you an email featuring your designated plumber. You'll see their name, a welcoming photo, and a short biography to feel at ease with the expert taking care of your well pump installation.

Seamless installation of your new well pump

After you've picked the perfect type of well pump and given the go-ahead on the estimate, our skilled plumbers will start the installation. Aiming for efficiency and accuracy, we aim to complete the installation in a single visit, minimizing any interruption to your daily activities.

Share your valuable feedback

Our top concern is your satisfaction, and your feedback is invaluable. Once the installation is done, we'd appreciate your thoughts on the service. If you encounter any issues or concerns, please let us know immediately. We're committed to addressing any challenges and ensuring you're fully satisfied with our service.
Ready to schedule your well pump installation?