Septic Tank Repairs in Charlottesville
Schedule Your Septic Tank Repair Today.
Reliable, On-Time Service
24/7 emergency service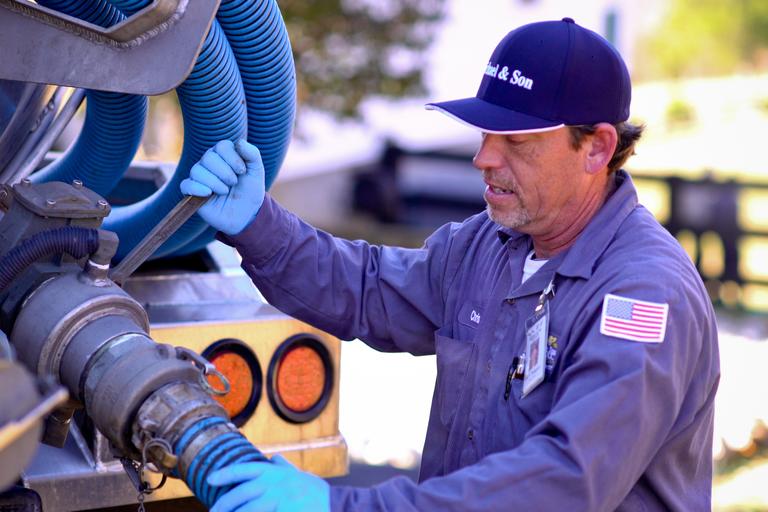 Service Details
Why choose us for your septic tank repair?
When your septic tank starts giving you problems, you need help ASAP. Our 24/7 emergency service is here to help. No matter the day or hour, Michael & Son is ready to get your septic tank back up and running. Plus, with more than 3,000 5-star reviews, you can expect better customer service with us than with any other Charlottesville plumbing company.
Price
What's the cost to repair a septic tank in Charlottesville?
Most of the time, a septic tank repair is for repairing an accessory unit and not the tank itself. The overall repair cost will vary depending on the parts needed, the type of system you have, and more. For an accurate price, call us for your free, on-site quote.
How Michael & Son determines your repair quote
To give you an accurate septic tank repair estimate, we look at:
The parts needed. One of our plumbers will inspect your septic tank to determine what needs to be replaced. The biggest factor of the overall repair cost will be the part itself.
The type of system you have. Septic systems can vary in type, size, and layout, which means your plumber will need to look at your system to understand what they're working with. Conventional septic tank systems are usually easier and less expensive to repair than the more complex drip distribution systems or Aerobic Treatment Units (ATUs).
The amount of time for the job. More complicated repairs will take more time for the plumber to fix, which means higher labor costs. At Michael & Son, the upfront estimate we give you will always include labor costs.
Your parts and labor warranties. If the parts or labor warranty on your septic tank is still valid, the cost of your repair could be partially or completely covered. We'll do our best to help you find out whether your septic tank warranties can save you money.
Process
Your septic tank repair in four easy steps:
Schedule your repair

Call us at (434) 260-8170 or fill out our online form to schedule your septic tank repair. One of our customer service representatives will schedule an appointment with one of our licensed plumbers at a time that works best for you.

Meet your expert plumber

We'll confirm your scheduled appointment with you 24 hours beforehand to ensure that time still suits your schedule. We'll also email you the name, photo, and a short bio of the plumber who will be helping you with your septic tank. We like to make sure you know who's going to be knocking on your door.

Get your septic tank working again

When your plumber first arrives, they'll get right to work diagnosing the issue with your septic tank. Once they know what's wrong, the plumber will give you an upfront estimate to repair or service your septic tank.

Let us know how we did

We truly care about the service our customers get. That's why we reach out after the repair asking how your plumber did. We hope you got nothing short of amazing service, but please let us know if you had any issues so we can straighten them out!
Ready to schedule your septic tank repair in Charlottesville?