Bathtub Installation Services
Schedule Your Bathtub Installation Today.
Michael & Son wants to make your upcoming bathtub replacement a huge success. So we've gone the extra mile to make sure each customer receives the most experienced installers, better financing options, and of course, the best warranty and guarantee protections around. Plus, if you haven't found the perfect bathtub replacement already, we can help you do just that. So don't hesitate to call us. We're here for you 24/7!
Flexible financing
Flat rate, up-front pricing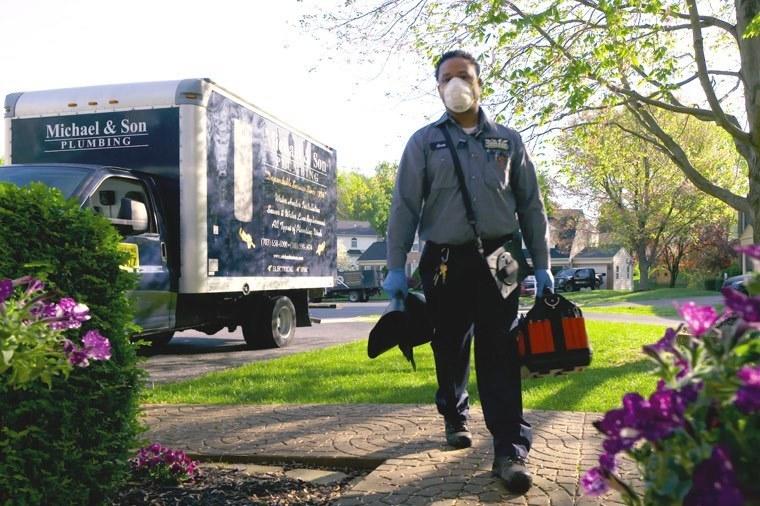 Price
How much does it cost to install a bathtub ?
The majority of bathtub installations tend to fall within this price range:
Low

$2,200

Our Average

$4,500

High

$6,500
How Michael & Son determines your install quote
We factor in the cost of the tub itself. A traditional alcove-style bathtub replacement is going to cost a lot less than, say a whirlpool tub or a walk-in tub. If you're not sure what kind of tub you need, a remodeling expert from Michael & Son can help you narrow down some choices within your budget range.
We price in possible modifications. Installing a bathtub that's the same size and shape as the one being replaced can help keep costs down. But this isn't always an option, especially if a homeowner is upgrading or wants a new look. If your new bathtub requires modifications to tile, plumbing, or bathroom layout, we'll keep you in the loop and give you an accurate accounting of the cost.
We estimate the number of hours for the job. A bathtub replacement tends to be a joint effort between our remodeling experts and our plumbing experts. So they'll put their heads together and estimate how many hours it will take to finish the job. In most cases, we'll have the whole project done in a day or two.
Process
Your bathtub installation in four easy steps
Schedule your appointment

Calling (919) 278-7841 or scheduling online will put you in touch with a Michael & Son customer service rep, who will work with your schedule to confirm an appointment time with one of our experienced electricians.

Meet your licensed plumber

Michael & Son will call the day before your service visit to confirm your appointment with you. We'll also send you your plumber's name, a photo, and a brief bio, just to make sure you know who'll be arriving at your door.

Get your bathtub installed

The Michael & Son team will take measurements and plan out the installation long before install day, so we're ready to go when that day arrives. Depending on how many modifications are involved, we tend to have the installation completed in just a day or two. As with all of our projects, we guarantee your home will be cleaner than it was before we left.

Let us know how we did

Your opinion sincerely matters to us. That's why our plumbers will always ask you to provide feedback once your bathtub replacement is complete. This is also the perfect time to let us know if something went wrong, so we can quickly remedy the situation!
Ready to schedule your bathtub installation?