What Is a Furnace Tune‑Up and Why Do I Need One?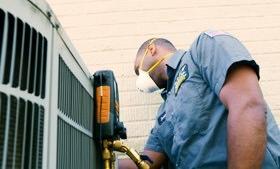 If you've never had a furnace tune-up, you might be wondering, "why do I need one?"
You're not alone. We get this question a lot!
While it might seem like an unnecessary expense, consider a furnace tune-up like maintaining your car. Over time, it will get mileage and start to wear. If critical maintenance issues go unaddressed, you could end up with a breakdown (and subsequent repair bill) along with a host of other problems.
So, to help explain what a furnace tune-up entails, including the benefits it can provide, below we'll take a look at:
Interested in an HVAC tune-up? Michael & Son has you covered.
For just $59, Michael & Son's signature HVAC tune-up will help you prevent heating system breakdowns and keep energy bills down. Plus, you'll maintain a valid manufacturer's warranty, which can come in handy if repairs are needed! *Select services are not available at all locations. Contact a location near you for service availability.
Select services are not available at all locations. Contact a location near you for service availability.
The checklist covered in a furnace tune-up
First, not all HVAC tune-ups are created equal, so it's important to find a trusted HVAC contractor who provides upfront pricing and a guaranteed checklist of items to be inspected. If they don't provide a checklist, you risk paying someone to essentially glance at your heating equipment without doing anything to improve system efficiency or save you money— which is precisely the goal of a heating system tune-up.
That being said, most quality heating technicians will follow Energy Star's standard inspection checklist during your HVAC tune-up.
For example, during Michael & Son's $59 signature HVAC tune-up, our NATE-certified heating pros will perform checklist items such as:
Checking your thermostat
Inspecting air filters
Cleaning and inspecting the blower motor and fan blades
Tightening and checking all wiring and connections
Ensuring proper voltage supply and that all safeties are functioning
Checking for CO and smoke detection and safety
Visual inspection of all duct connections
Review system age, condition, and efficiency, and expected problems or concerns
And more
Additionally, Michael & Son will provide you with a written report detailing any repairs or replacement parts you may need. This way, you can prioritize what work needs to be done, and avoid the stress of an untimely (and expensive) breakdown down the road.
Now that we've reviewed what a tune-up includes, let's look at how it can save you money!
How a furnace tune-up can decrease your energy bills
You know how it's important to get your car's oil changed to maintain better gas mileage? The same concept applies to your heating system's efficiency.
Through proper lubrication of parts, air filter replacements, and more, your HVAC system will operate more efficiently. And when it doesn't have to work as hard (or as long) to heat your home, you'll enjoy increased comfort and energy savings.
To keep heating bills as low as possible, it's best to schedule maintenance prior to the heating season. This way your heater runs at optimal performance throughout the entire time you're using it.
Why a furnace tune-up can help you avoid costly repairs or replacements
When turning on the heat, it's easy to forget that a furnace is a complex piece of machinery. Many parts and pieces are working behind the scenes, and they can start to wear or fail— without you even knowing it.
For this reason, it's essential to have a licensed and experienced HVAC technician inspect the inner workings of your heating equipment. Just like a trained mechanic lifting the hood of your car to inspect the engine, your heating tech will be able to assess any minor furnace repairs before they lead to major breakdowns (or worse, full system replacements).
Moreover, most manufacturers require once-a-year HVAC maintenance in order to keep your furnace warranty valid. So if you haven't had a tune-up and you end up needing a repair, you risk paying out-of-pocket.
To extend the lifespan of your HVAC equipment and avoid the financial stress of major repairs, it pays to invest in maintenance. After all, what is a $59 HVAC tune-up when compared to a $5,000 new furnace installation? Less than one percent!
The upside to enrolling in an annual maintenance plan
Many home service companies offer annual plans to make furnace maintenance easy and cost-effective.
This way, your warranties stay covered, your equipment lasts longer, and you have peace of mind that you won't be getting any surprise repair bills.
At Michael & Son, our Home Care Program practically pays for itself. Members enjoy:
Regular HVAC tune-ups (with friendly automated reminders)
Discounts on repairs and services
Easy warranty renewals
Exclusive offers (sent straight to your inbox)
Whole-home protection for your HVAC, plumbing, and electrical systems
And more!
Don't wait for minor problems to become major emergencies. Schedule a heating maintenance today!
At Michael & Son, our signature HVAC tune-up is just $59 and includes a full inspection and cleaning of your indoor and outdoor units. When finished, our NATE-certified technicians will provide a written report of their findings, including honest recommendations on any repairs or improvements needed. For upfront pricing and hassle-free service, contact Michael & Son today. We've earned thousands of verified 5-star reviews from fully satisfied customers! *Select services are not available at all locations. Contact a location near you for service availability.
Select services are not available at all locations. Contact a location near you for service availability.
This blog was written on Dec 01, 2021. Any pricing information is subject to change.