How Often Should You Change Your Home Air Filter?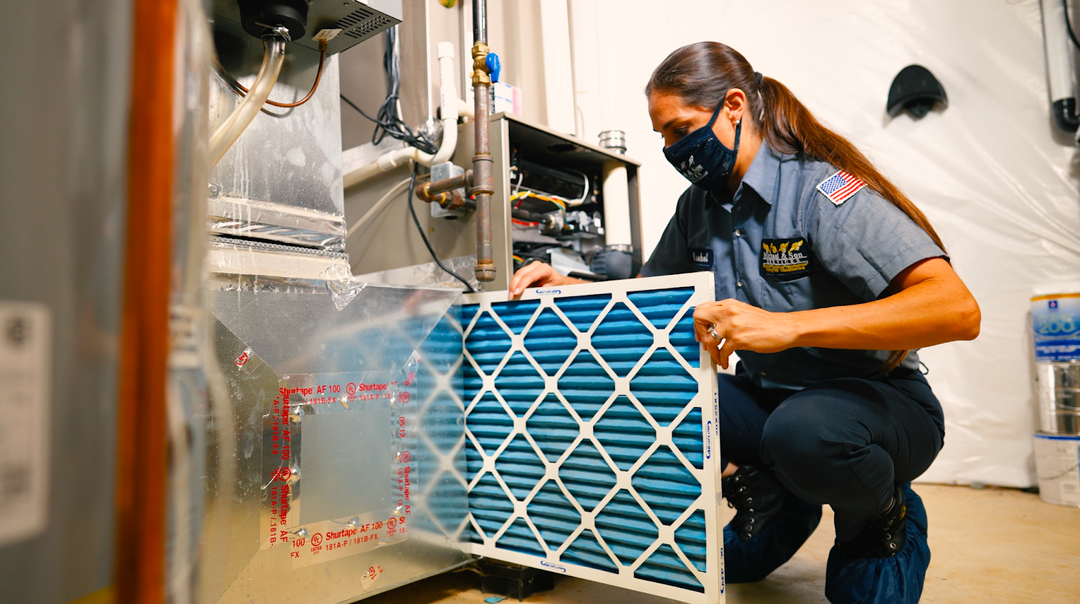 Changing your air filters is an easy way to get better HVAC energy efficiency. It's also one of the simplest and most important things you can do to keep both your HVAC system and your family healthy.
Even though it's a simple task, many homeowners forget to change their air filters regularly, leading to high energy bills, future maintenance issues, unexpected breakdowns, and more.
So, how often should you change your air filters?
We recommend replacing your filter once a month when using your air conditioner, furnace, or heat pump daily. If you don't mind spending a little extra money to ensure your air quality is the best it can be, you can change your filters every few weeks. During more moderate seasons or when you're not using your HVAC system daily, you can replace the filter once every 2–3 months.
The truth is, the more often you change your filters, the better.
Whatever you do, don't put off changing your air filter for too long, and remember to have your HVAC system maintained regularly.
In this blog, we'll go over basic recommendations from HVAC experts on the following:
Need Air Filter Advice From an HVAC Professional?
If you're serious about improving the quality of your indoor air and eliminating even the most stubborn indoor air pollutants, make one call to Michael & Son and we'll help you breathe easier! Our experts will assess your home's air quality during your in-home estimate and walk you through our wide range of indoor air quality products and services. We offer 0% APR financing plans* and can even do same-day installations!
Select services are not available at all locations. Contact a location near you for service availability.
Why Changing Your Filter Is Important
According to the Allergy and Asthma Foundation of America (AAFA), indoor air quality is as important as outdoor air quality. While it's well-known that outdoor air can contain harmful and dangerous pollution, indoor air can be worse than outdoor air.
Air filters provide the first line of defense against harmful pollutants like dust, pet dander, mold, bacteria, and more that are circulating throughout the air inside your home. They also play a significant role in keeping your HVAC system in good working order.
If you have asthma or allergies: People with asthma, allergies, or other breathing problems are more sensitive to airborne particulates than people without, so it's important to change your filter every 6 weeks or so. Dust mites, mold spores, pollen, and pet dander in your home's air can give those suffering from asthma or allergies a tough time breathing.
If you have pets: Pets that shed an excessive amount of fur and hair can lead to increased allergy symptoms, especially during the change of seasons. We recommend changing your air filters more frequently if you have pets.
If you have kids: Young kids, especially babies, are much more sensitive to poor air quality than adults. Because their immune systems are still developing, it's essential for children under 5 to have clean air inside their homes.
Effects Of Dirty Air Filters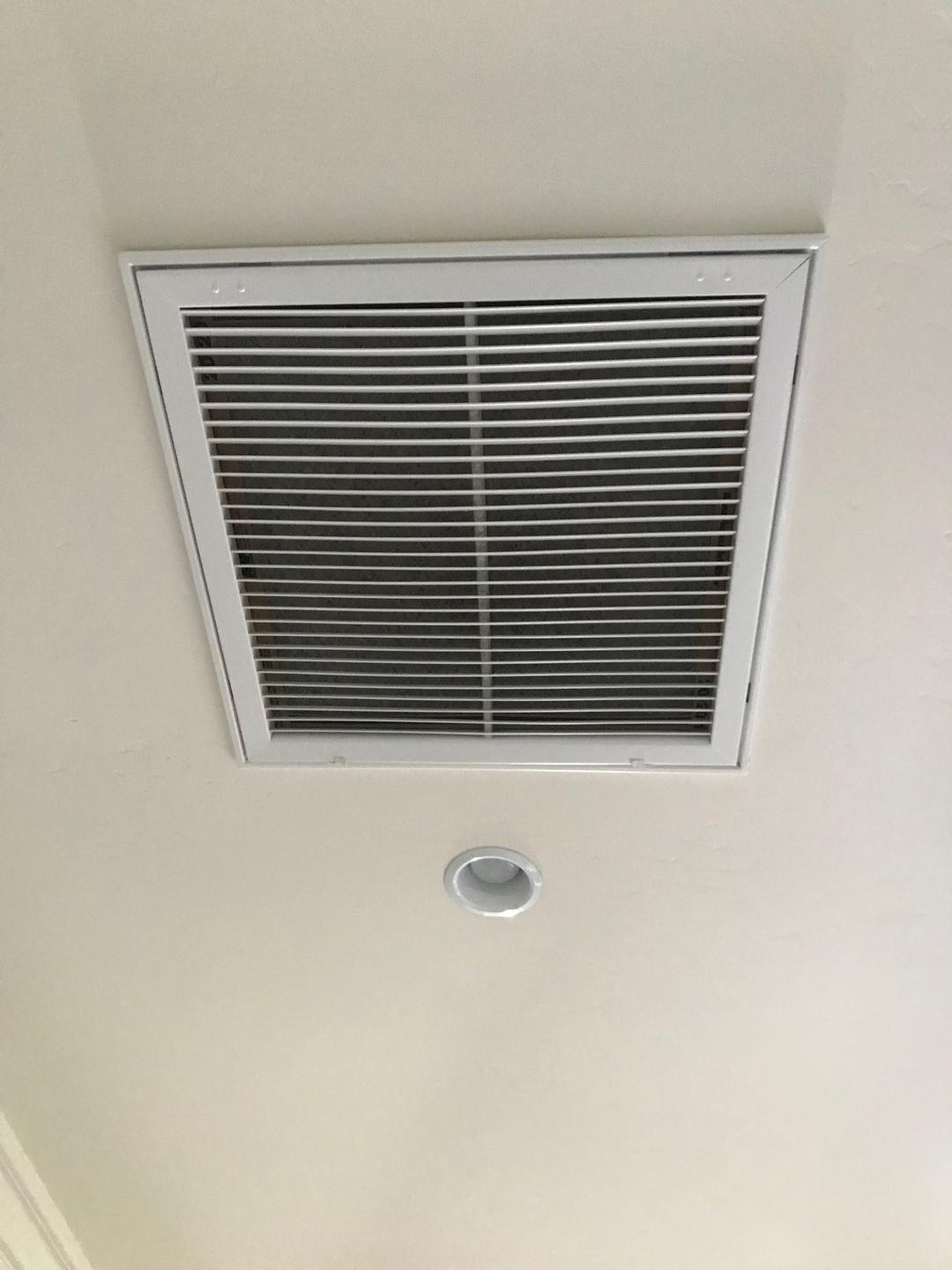 Did you know that clogged air filters are the number one cause of HVAC system failure? Dirty air filters can cause a lot of problems for your HVAC system, including:
Higher energy bills: When the air filter is clogged, the blower fan in the HVAC system will need to work harder to push air through the system. The harder your HVAC equipment works, the higher your home's energy usage and monthly electric bills will be.
Uneven temperatures: When air can't move freely through the filter, your living areas may not get all the air they need causing varying temperatures throughout your home and less comfort for you and your family.
Overheating or freezing system: Because the cooled or heated air can't travel out of your HVAC system as easily, your system runs the risk of freezing or overheating. You'll end up paying the same amount on your power bill or even more because your system is working harder, but you won't feel the change in your indoor temperatures.
Dirty ducts: When air can't circulate as quickly due to clogged filters, contaminants can settle in your ducts instead of being carried into the system and filtered. It's a lot easier and less expensive to change your air filter than to get your ducts professionally cleaned. Dirty ducts can continuously drain your system's efficiency and become a long-term source of pollutants in your air supply.
Types Of Air Filters
Some filters get dirtier, faster and not every air filter is created equal.
Generally, you can group air filters into 3 different categories: thin fiberglass filters, pleated filters, and media filters.
Thin Fiberglass Filters are typically made of light fiberglass and are blue or green. These filters will capture large particles like lint, dust, and pet hair, but allow smaller particles like pollen, allergens, dust mites, bacteria, and other micro allergens to pass through. This type of filter is not recommended, but they need to be changed every 30 days if you use them.
Pleated Filters are in an accordion-style shape with a cardboard frame and are made from cotton or polyester blended fabric. These filters capture finer particles than Fiberglass Filters. However, the dense material can occasionally restrict airflow. Sometimes, these types of filters can cause your system to work harder and run longer, resulting in higher energy bills and costly repairs to your system. In addition, since these filters are made from organic materials (cotton, paper, cardboard), they are a breeding ground for mold, mildew, fungi, algae, and bacteria. These filters need to be replaced every 30-60 days.
Media Filters provide good airflow while also filtering out the finest of particles. They have a unique 3 layer filtration process that captures large particles and small microparticles alike without restricting airflow. Most media filters are antimicrobial, preventing harmful mold, mildew, fungi, and algae from circulating. Media filters need to be replaced every 60-90 days.
Breathe Easier and Save Money With Help From Michael & Son.
At Michael & Son, we help keep dust and allergens out of your home with the latest whole-home humidifiers and other air quality products and services in Alexandria. Our work is backed by thousands of 5-star reviews from happy customers, and we proudly offer excellent financing plans to help make your air quality improvement more easily affordable. For upfront prices and fast, reliable service, give us a call today!
Select services are not available at all locations. Contact a location near you for service availability.
This blog was written on Dec 23, 2021. Any pricing information is subject to change.