Residential & Commercial Disinfection Services in Wilmington, NC
Eliminate Germs, Viruses & More
Not all disinfectant solutions and services are created equal. At Michael & Son, we're committed to using only the most powerful disinfectant solution available. That's why we use the HaloSil Disinfection System®. HaloSil's system combines a powerful EPA-registered disinfectant with a unique dry fogging technique to reach and sanitize every inch of your home or facility. Plus, our certified professionals will custom-design a treatment plan that fits your facility's sanitation needs. For the disinfecting services your facility needs and deserves, call Michael & Son today.
Fast-acting, preventive disinfection against COVID-19
Reaches spaces that UV lights, wipes and sprays miss
Kills 99.9999% of bacteria & viruses at the source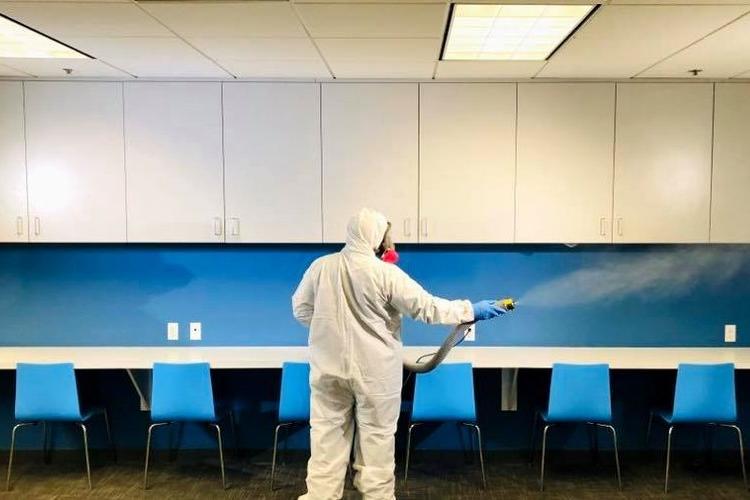 Price
What's the cost of disinfectant services in Wilmington?
The cost to disinfect your facility or home varies widely but most jobs tend to fall within this price range:
Low

$0.28/sq ft

Our Average

$0.39/sq ft

High

$0.50/sq ft
How Michael & Son determines your disinfectant quote
We measure the space(s) that need to be disinfected. The biggest determining factor in your disinfecting quote is the total square footage that needs to be sanitized. The larger the space, the higher the cost. At Michael & Son, we'll help you map out the high-traffic, vulnerable areas that need disinfecting.
We determine the treatment frequency needed. Our certified professionals will assess your home or facility for its occupancy levels and high-traffic areas and determine how often you might need disinfecting services completed. The more often you need the space disinfected, the more you'll pay in the long run. However, keeping your building clean and healthy also prevents costly mishaps such as increased employee sick time, lawsuits, and more.
Process
Your disinfection service in four easy steps
Schedule your quote

Michael & Son offers homeowners in Wilmington, NC two convenient ways to schedule. Either use our online scheduler or reach out to us by phone when you call 1-800-948-MIKE. Both options will put you in touch with our customer relationship department, who will then schedule a time for a certified professional to visit your home or facility and provide you with an upfront, no-obligation quote for disinfecting services.

Prepare for the service

If you accept our quote and choose us for your disinfecting needs, our team will work with you to schedule a day and time to complete the treatment. All you need to do is make sure all residents, employees and/or customers clear the building beforehand.

Relax while we disinfect your space

Our professionals will arrive on time and with all the tools needed to get the job done right the first time around. For most jobs, our disinfecting services take just 30 minutes and all indoor activities can resume within the hour.

Enjoy a cleaner, healthier space

The HaloMist solution we use acts as an all-in-one solution—from surface disinfection to mold control and remediation, and product and forensic restoration. That means you get peace of mind that your facility is protected—from the inside out— from a variety of threats. And if the job wasn't up to your standards, we promise we'll do everything in our power to make it right.
Ready to schedule your disinfecting services?