Garbage Disposal Repairs in Greensboro, NC
Schedule Your Garbage Disposal Repair Today.
For garbage disposal repairs in Greensboro, give Michael & Son a call. Our expert plumbers are available 7 days a week to handle jammed, leaking, smelly or just plain dead disposal units. And with over 3,000 verified 5-star reviews and counting, you know you'll get the best experience for your money, period.
Same-day repairs
Open Sunday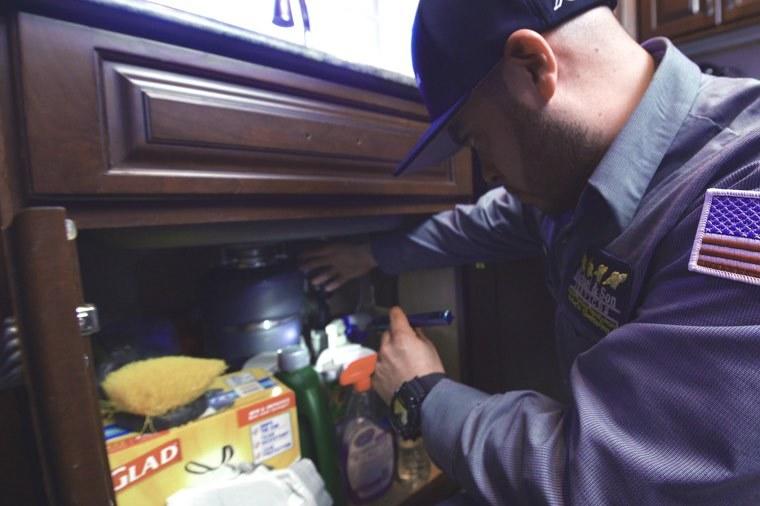 Price
What's the cost of a garbage disposal repair in Greensboro
The cost of a garbage disposal repair in Greensboro tends to fall within this price range:
Low

$450

Our Average

$600

High

$1,100
How Michael & Son determines your quote
We factor in the cost of parts. Your existing garbage disposal may just need a quick replacement part. Or it may be time for a brand new unit. The cost of these parts is a major factor in determining price.
We estimate the number of hours for a job. Most garbage disposal repairs tend to fall around an hour. But it may be more if your plumber anticipates difficulties. Regardless, the cost of labor will show up in the estimate we hand you.
We consider warranty status. Garbage disposal warranties come in two varieties: parts and labor. Both can help save you money if they're still valid.
Process
Your garbage disposal repairs in four easy steps
Schedule your repair

Give Michael & Son a call at (336) 278-1258, or connect with us with our easy online schedule form. If you take the online route, a team member will call you at the number specified to confirm your selected appointment date and time.

Meet your expert plumber

Michael & Son will call the day before your scheduled service to confirm the appointment with you. We'll also send an email with your plumber's name, a photo and a brief bio with a few fun facts about them.

Get your garbage disposal serviced

Your plumber will arrive at your Greensboro home right on time, drop down our Michael & Son doormat at your front door, place shoe covers over their work boots and lay down a drop cloth to protect your kitchen floor. In no time you'll have a fully functional or brand new garbage disposal. Happy shredding!

Let us know how we did

Your opinion sincerely matters to us. That's why our plumbers will always ask you to provide feedback after they've serviced your garbage disposal. This is also the perfect time to let us know if something went wrong, so we can quickly remedy the situation!
Ready for your garbage disposal repair?