Attic Fan Installations
Cool Your Home and Save on Energy Bills
Did you know during the summer months, temperatures in your attic can exceed 160 degrees? The excess heat can have negative effects on the rest of your home and even cause damage to your roof. Attic fans solve this by drawing out hot, humid air from your attic, providing much-needed ventilation and cooling. Our trusted electricians have been installing attic fans in the region since 1976! Increase energy efficiency, lower the temperatures in your home and extend the life of your roof today with an attic fan from Michael & Son.
Increase energy efficiency
Lower temperatures in your home
Extend the life of your roof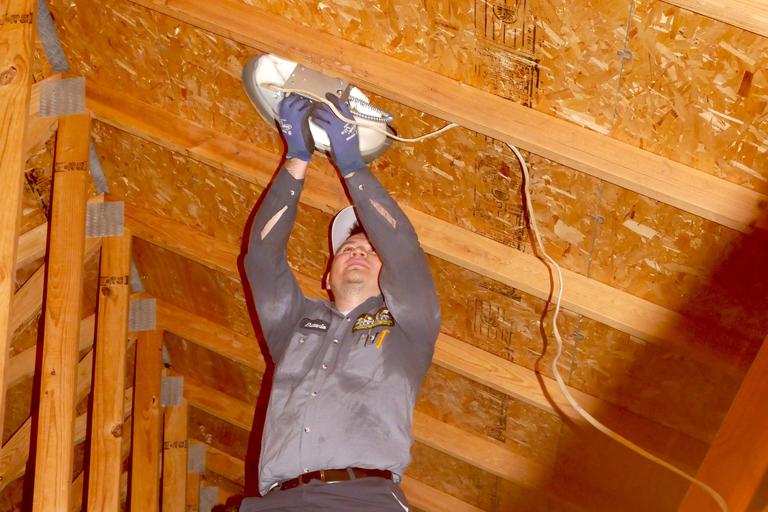 Pricing
What's the cost of an attic fan?
The cost to install an attic fan in your home tends to fall within this price range:
Low

$1,100

Our Average

$1,700

High

$2,200
The benefits of an attic fan include increased energy efficiency, lower temperatures in your home, and extending the life of your roof and shingles.
How Michael & Son determines your repair quote
We look at what's wrong with the unit. If more than one part caused the unit to break down, or a more expensive part needs to be replaced, it increases the bottom line cost of a repair.
We estimate the amount of time for a job. Once we know what the issue is, we can accurately determine how long it will take to complete the repair. The number of hours gives us the total labor cost for each job.

We look at the status of a system's warranties. Valid labor and manufacturer warranties protect homeowners from paying the full price of their air conditioning repair. Units with expired warranties have significantly higher repair costs.
Process
Your attic fan installation in four easy steps
Schedule Your Estimate

Michael & Son offers two convenient ways to schedule. Either use our online scheduler or reach out to us by phone when you call (800) 948-6453. Both options will put you in touch with our customer relationship department, who will then schedule your estimate.

Meet Your Technician

The day before the appointment, Michael & Son will call to confirm the scheduled time with you. We'll also send an email with your technician's bio, photo, relevant trade licenses, and a fun fact about their background.

Attic Fan Installation

If you choose to move forward with your quote, your technician will then schedule your installation. During the installation, we'll protect your home like it's our own. Shoe covers are worn at all times and drop cloths are placed down to protect your floor.

Let Us Know How We Did

Once we're confident that your attic fan installation is completed, we'll request your feedback for the job. Your opinion sincerely matters to us. And if the job wasn't up to your standards, we promise we'll do everything in our power to make it right.
Ready to Schedule Your Estimate?