Fire and Smoke Damage Restoration Services in Alexandria
Schedule Your Fire Damage Restoration Today.
In addition to the damage caused by fire and smoke, it's not unlikely that your property is also suffering from water damage or flooding due to firefighting efforts. When you're experiencing destruction at this level, you need a fast-acting company you can trust — which is why you should call Michael & Son. Our team of restoration experts work quickly to eliminate smoke odor, deep-clean soot from all surfaces, and restore or replace water-damaged and contaminated walls, assets, and more to their pre-fire conditions. We also work directly with your insurance company to save you time and stress.
Certified fire, smoke & water damage restoration specialists
1-hour response time guarantee
We coordinate directly with your insurance on your behalf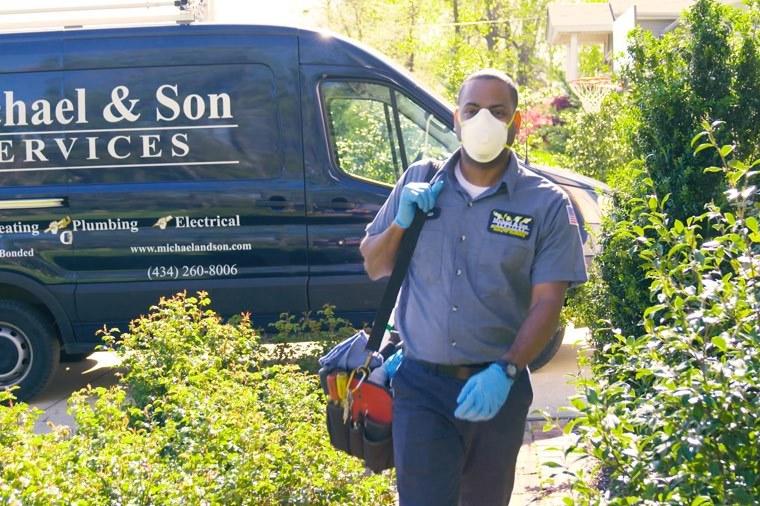 Price
How much does fire damage restoration cost in Alexandria, VA?
Fire and smoke damage restoration prices will vary depending on the size of your home and the extent of the damage. We work with all major insurance providers in an effort to keep restoration affordable for homeowners. For an accurate price, call us for your free, on-site restoration quote.
How Michael & Son determines your fire and smoke damage restoration quote
We determine the extent of the damage. The more extensive the damage, the more expensive the clean-up will be. That's why Michael & Son guarantees response times of an hour or less for all fire damage restoration calls. A quick response following a fire can minimize existing damage, prevent further damage and save you thousands of dollars in repairs and restoration costs.
We consider additional service needs. No two fire damage events are the same. That's why our experts will quickly and carefully inspect your home to evaluate the damage, as well as determine if any additional services are needed. This could include contents packout, standing water extraction, and smoke damage remediation.
Process
Your fire damage restoration in four easy steps
Schedule your free quote.

If you've experienced a fire damage event or are in need of smoke, soot, or water damage restoration, call Michael & Son ASAP at 703-289-0565. Day or night, we'll respond to your call within 1 hour to schedule an in-home estimate with a fire damage restoration specialist.

We evaluate the damage and give you an honest quote.

Our experts will arrive at your home, greet you and prepare for the on-site inspection. We'll work quickly to determine the extent of fire, smoke, and soot damage, as well as any water damage, and give you a fixed-price quote for the work.

Relax while we fully restore your home.

Every fire damage restoration project is different. Depending on the damage, some homes only call for minimal repairs, while others require major reconstruction and rebuilding. Either way, restoring your home to its original state is our goal. This can involve a variety of steps, including: water removal (if needed), the removal of soot and smoke from ceilings, walls, and other surfaces, replacing drywall, painting, replacing floors etc.

Let us know how we did.

We want to make sure you're satisfied with your fire damage restoration, which is why we'll ask for your feedback after we complete the job. Your honest feedback helps us improve and continue to be the leading restoration company . And if something went wrong, it gives us the opportunity to correct our mistakes.
Ready to schedule your fire damage restoration project?