Water Heater Installations in Virginia, Maryland, North Carolina & DC
Schedule Your Water Heater Installation Today.
Michael & Son has been in business for over four decades, and installs hundreds of water heaters in homes across the east coast every year. That experience is just one reason why we've earned a reputation as one of the most dependable plumbing and home service companies around.
Flat rate, up-front pricing
Financing options with approved credit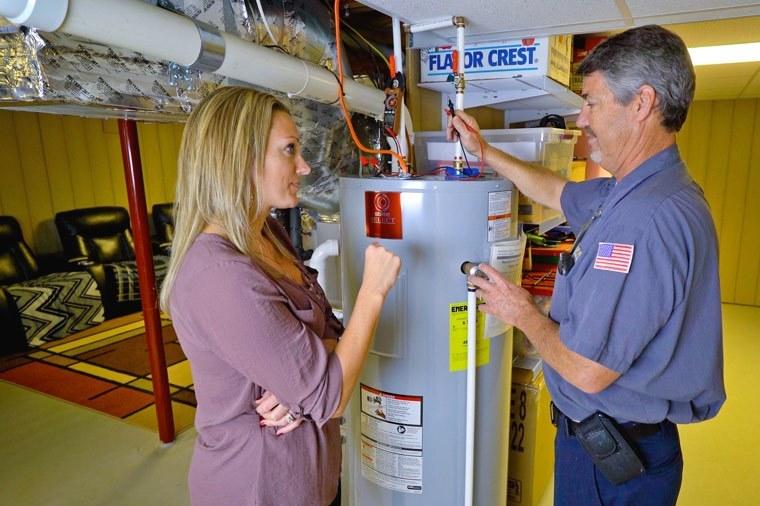 Price
What's the cost of installing a water heater?
The majority of water heater installations tend to fall within this price range:
Low

$1,900

Our Average

$3,400

High

$8,500
How Michael & Son determines your estimate
We assess your home's hot water needs. Some homes need more hot water than others. The number of people living in the home and the number of appliances that require hot water determine tank size (a major cost component.)
We discuss system efficiency with the homeowner. Some homeowners want more efficiency out of their system for extra utility savings per month. Tankless systems tend to be more efficient than tank water heaters, but cost a little more up front.
We consider parts and labor warranties. Extended parts and labor warranties protect homeowners from paying out of pocket for repairs later on down the road. Adding extended warranties also adds to the price estimate.
Process
Your water heater installation in five easy steps
Schedule your estimate

Call (800) 948-6453 or visit our online scheduling page to get the ball rolling on your water heater installation. Both options will connect you with our customer service division, who will then assign an expert plumber to your project.

Meet your expert plumber

We want you to feel comfortable with the person we're sending to your home before they arrive. That's why we email our customers the name of your plumber along with a photo, a brief bio and any relevant trade licenses. We'll also give you a quick courtesy call the day before to remind you of your appointment.

Find the right water heater for your home

To find an ideal water heater match for your home, the first step is to learn more about your family's hot water usage. From there your plumber can gauge what size tank you'll need, or whether you could benefit from a newer tankless water heater.

Get your system installed

After you and your plumber have agreed on a water heater, the next step is to agree to the estimate and schedule out a time for the installation team to arrive (usually 3-5 days after your initial consultation). The vast majority of our installations take just a day to complete, and we always protect your home by wearing shoe covers and placing down drop cloths.

Let us know how we did

Whether the job was a huge success or there was something we could've done better, we want to know about it. That's why we ask our plumbers to request feedback from you at the end of every job. If you had any issue at all, just let us know and we'll do everything we can to correct our mistake.
Ready to schedule your water heater installation?