Sewer line replacements in Frederick, MD
Schedule Your Sewer Line Replacement Today.
An aging or damaged sewer line can lead to backed-up toilets, indoor flooding and funky smells throughout the home. But with a single call to Michael & Son, you can flush all those issues down the drain for good. Our plumbers have decades of experience removing, replacing and in some cases, extending sewer lines. Best of all, our 3,000+ verified reviews speaks to our commitment to honoring our promises and doing right by our customers, no matter how tough the job.
Financing options with approved credit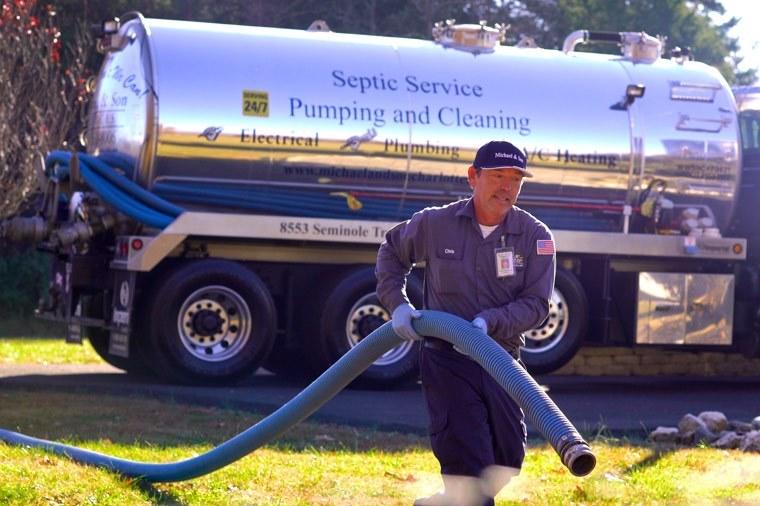 Price
How much does it cost to replace a sewer line in Frederick?
The majority of sewer line replacements in Frederick tend to fall within this price range:
Low

$4,500

Our Average

$5,800

High

$6,750
How Michael & Son determines your estimate
We look at the length of the sewer pipe. The length of the sewer line running from your home to the city's or county's connecting line plays an important role in the price. Homes that are farther from a connecting line require more material, which can increase the cost of the installation.
We determine the replacement pipe material. Michael & Son relies on our own experience, plus city or state guidelines to determine the type of piping material we use in your replacement. More expensive materials include copper, concrete, steel and iron. Less expensive materials include PVC or ABS.
We assess any landscaping challenges. Michael & Son has a variety of methods at our disposal for protecting your home's landscaping when installing a new sewer line. Certain trench-less digging methods are often less expensive because the pipe is installed without having to dig up the yard, thus avoiding most landscaping challenges altogether.
Process
Your sewer line installation in five easy steps
Schedule your estimate

Michael & Son is here to schedule your estimate whenever you're ready. Simply give us a call at (240) 608-4020 or visit our online scheduling page. Once we're in touch, a friendly team member in our customer service division will assign an expert plumber to your project.

Meet your expert plumber

Your comfort is our highest priority. And one of the ways we make you comfortable is by introducing you to your plumber long before they arrive at your door. You'll always receive the name, a photo and a brief bio of your plumber prior to your scheduled service visit. We'll also give you a quick courtesy call the day before your appointment as a reminder.

Discuss your needs & get a quote

Once your plumber has arrived, the next step is to determine the scope of the project. It's at this point that we'll determine the length of the sewer line, the material for the piping and the methods we'll use to reach the existing line. We'll also make sure any special requests you have will be honored by our team.

Make an installation appointment

Once we've come to an agreement on the project specifics, the next step is to schedule the replacement visit (or visits for larger jobs). On average, a Michael & Son installation team will arrive 3-5 days after the initial consultation. Back at the office, our team will handle all the paperwork, drawings and permits before the installation and will coordinate the required inspection once the sewer line is installed.

Let us know how we did

Whether the job was a huge success or you think there's something we could've done better, we want to know about it. If you had any issue at all, just let us know and we'll do everything we can to correct our mistake.
Ready to schedule your sewer line replacement?