Duct Cleaning Services in Richmond, VA
Schedule Your Duct Cleaning Today.
Is dusty, moldy ductwork causing you poor health, bad allergies and higher energy bills? Call Michael & Son! Our team is HEPA certified and trained in the most advanced duct cleaning tools by Abatement Technologies. And with over 3,000 verified 5-star reviews, you know you'll have a great experience with us, every time.
Fast, same-day service
Friendly NATE-certified techs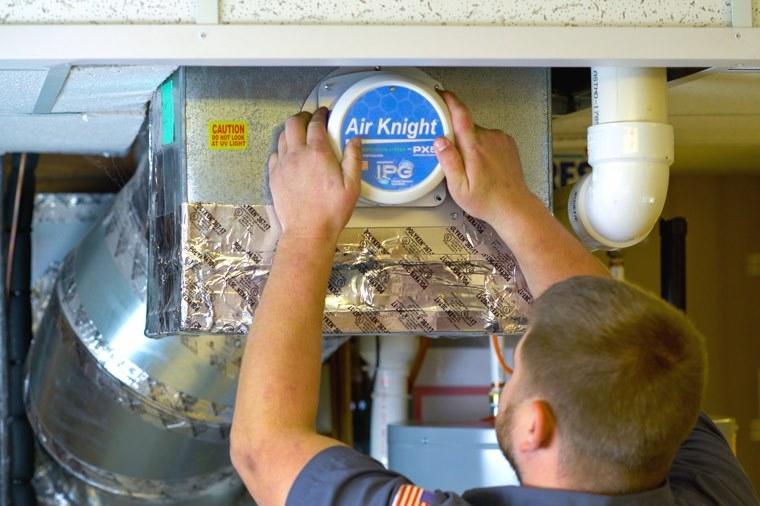 Price
What's the cost of performing a duct cleaning in Richmond?
The majority of duct cleaning services tend to fall within this price range, and may vary with additional zones:
Low

$450

Our Average

$525

High

$850
How Michael & Son determines your estimate
We measure out your home's ductwork. The length of ductwork in a home can vary greatly depending on the home's size. Bigger homes with more ductwork take longer to clean, and thus cost more.
We look at the number of comfort systems in a home. If a home has more than one comfort system (for example, two AC units) then it can extend the length of a job and increase the total cost.
We assess the state of the ductwork. Sometimes our HVAC specialists will come across damage to a part of the ductwork. Damaged ductwork, if it warrants a repair, will be brought to the homeowner's attention before being added into the total cost.
Process
Your duct cleaning service in five easy steps
Schedule your duct cleaning estimate

To get started, simply give us a call at (804) 465-6453, or let us know when you're available with our simple online scheduling form. Our customer service department will then reach out to you to confirm your appointment.

Meet your technician

You'll receive an email with your technician's name, photo, all relevant trade licenses and some fun background information. We do this to help you feel comfortable about the person you'll be inviting into your Richmond home.

Have your ducts professionally cleaned

We'll arrive at your Richmond home on the scheduled day with all the tools needed to perform a thorough job. This includes equipment that keeps all of that gross duct stuff out of your home. We also promise to wear shoe covers whenever we're in your home and to place drop cloths on the ground to protect your flooring.

Let us know how we did

Once we're confident that your system is in working order, we'll request your feedback for the job. Your opinion sincerely matters to us. And if the job wasn't up to your standards, we promise we'll do everything in our power to make it right.
Ready to schedule your duct cleaning service?