How Much Does It Cost to Install a Furnace?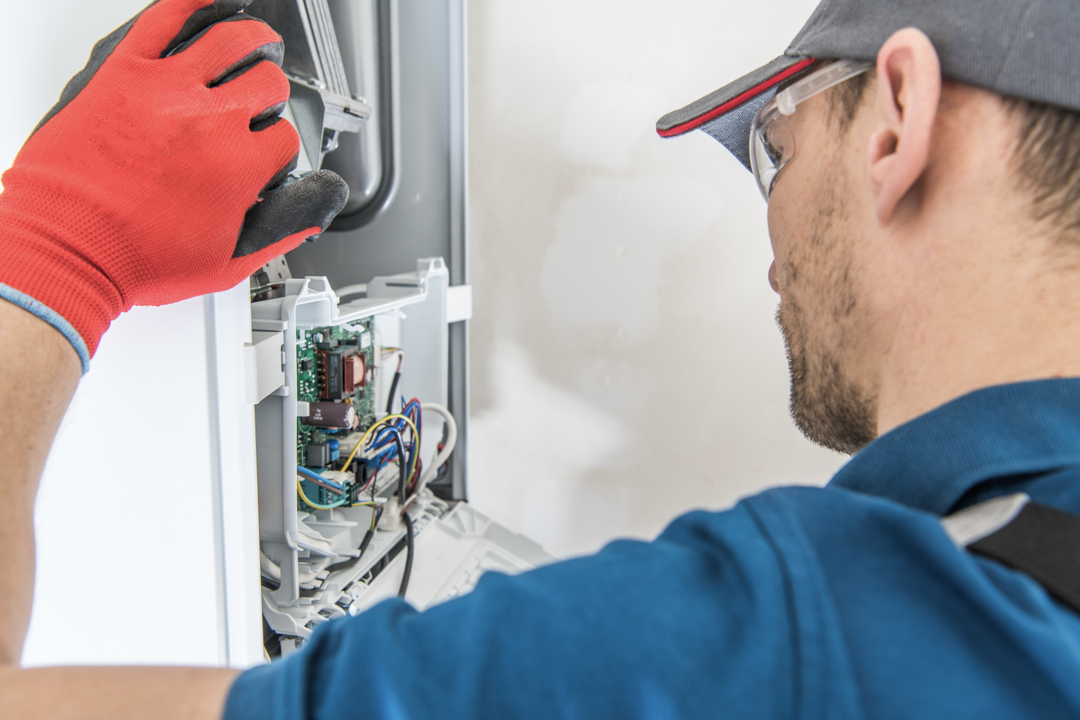 In the market for a new furnace? If so, you're probably wondering, "how much is this going to cost me?"
The cost to install a new furnace can run anywhere from $3,000 to $8,000, with the average homeowner paying around $5,000.
Your final price for your furnace installation will vary depending on the following factors:
In this blog, we'll dive into these 2 factors and how they impact overall cost so you'll know what to budget for.
Ready to get a quote for your furnace installation project?
Give us a call today and we'll set you up with an in-person, no-obligation free estimate.
Select services are not available at all locations. Contact a location near you for service availability.
Cost Factor #1: The furnace
As far as furnaces go, you have many options to choose from. And all of these different options will have an impact on your total installation costs.
The cost of the furnace itself will vary depending on the following:
Type: gas vs. electric
Size
Efficiency (AFUE rating)
Make & model

Type: Gas vs. electric
On average, electric furnaces cost less than gas furnaces.
That being said, you'll still want to consider the following before you can select which type of furnace you want:
The size of your electrical panel. If you want to install an electric furnace, you'll need to make sure your home's electrical panel is equipped to handle the additional load. If it isn't, you'll need to hire an electrician to upgrade your panel. If you currently have an electric furnace, then your panel is likely already equipped to handle another electric furnace.
Whether or not you have access to a gas line. If you don't have access, you're probably better off choosing an electric furnace to avoid paying to have a main gas line installed. Keep in mind, in addition to installing a gas line, you'd need to make several other costly modifications to support the gas line to the furnace such as the gas venting components, etc.
Size
The next cost factor is the size of the furnace. The "larger" the furnace is, the more it will cost to install.
Keep in mind, furnaces aren't measured by their physical size. Instead, they're sized by their heating capacity which is measured in British Thermal Units, or, BTUs.
Basically, the more BTUs your furnace has, the more heat it can produce in one hour for your home. Most residential furnaces range between 40,000 and 200,000 BTUs. However, you don't get to choose what size you want, instead a professional should carefully measure and size the furnace to match your home's heating needs.
The correct size furnace must be determined by a professional, who will assess your home's heating needs through a complex process called a "load calculation."
During a heat load calculation, a variety of your home's characteristics are carefully examined and measured, including:
Height of ceilings
Number of people living in your home
Type of flooring
Climate you live in
Quality of insulation
Number of windows and doors
Efficiency
The more energy-efficient the furnace is, the more it will cost.
The efficiency is measured by its AFUE (Annual Fuel Utilization Efficiency) rating. This is a measurement of how efficiently the furnace converts fuel into heat. This is a measurement of how efficiently energy is converted into heat. The higher the AFUE rating, the more efficient the furnace.
All electric furnaces have a 100% AFUE rating.
Most high-efficiency gas furnaces have AFUE ratings between 90% and 98.5%. So, for a high-efficiency furnace with a 92% AFUE rating, 92% of the gas being used is turned into heat, while the remaining 8% of gas is wasted during the heating process. Most low- to mid-efficiency furnaces have AFUE ratings between 80% and 84%.
A 90% AFUE or greater is recommended for gas furnaces in the southeast.
While high-efficiency gas furnaces will be a little more pricey upfront, most homeowners will save money in lower monthly energy costs over the furnace's lifetime.
Make & model
Furnaces made by bigger, well-known brands will cost more. Some of these brands include:
Carrier
Ruud
Bryant
Trane
American Standard
Rheem
York
Lennox
A brand-name furnace may cost more upfront, but you'll likely get a longer and higher-quality warranty, as well as a furnace that will last longer and perform better, which could cost less in the long run.
In addition to the brand, the model you choose or any advanced or additional features will increase cost.
You can add features if you want to improve the efficiency of your furnace or allow for more heating.
Some additional furnace features (that may increase your cost) include:
Smart thermostat: Smart thermostats help lower energy costs and keep your home comfortable by heating and cooling your home based on a predetermined schedule. In addition to being programmable, you can also control your thermostat from your smartphone.
Modulating burners: Depending on how much heat is needed, modulating valves will adjust the burner temperature/output according to the level of heat needed at the time. In turn, they can help lower energy bills.
Variable-speed blower motor: This technology allows your furnace to run quieter and more efficiently than other blower motor speeds because they're able to run at whatever speed is needed to heat your home to the desired temperature.
Cost factor #2: The contractor
More experienced, higher-quality furnace installation contractors will charge more for labor.
When it comes to an expensive investment like a furnace, you'll want it to last a long time and require few repairs, if any, over time. To achieve this, we recommend hiring an experienced contractor. Not only will your installation be done correctly the first time, but you'll likely save money in costly repairs in the long run.
Here are a few things to consider when choosing a contractor:
They provide a written estimate before any work is completed.
They guarantee their work.
They're licensed, trained and certified to perform furnace installations.
They offer a solid labor warranty. At Michael & Son, we offer a 10 year labor warranty on all furnace installations.
Ready to install your new furnace? Give us a call.
Call us today to schedule your free, in-home estimate for your furnace installation. With a variety of makes and models to choose from, we'll help you find the furnace that meets the needs of your home and family.
Select services are not available at all locations. Contact a location near you for service availability.
This blog was written on Oct 15, 2020. Any pricing information is subject to change.