Whole-Home Surge Protector Installations in Norfolk, VA
Schedule Your Whole-Home Surge Protector Install Today.
A whole-home surge protector keeps appliances and electronics safe no matter how bad the weather is outside. It's finding the right surge protector for your home that's the tricky part. At Michael & Son, we install only the highest quality surge protectors, engineered by the most reliable brand names in the industry. In addition, our licensed electricians won't just install and run. We'll make sure everything works perfectly beforehand, and we'll always leave your home cleaner than how we found it.
Special Financing Available
Experienced, licensed electricians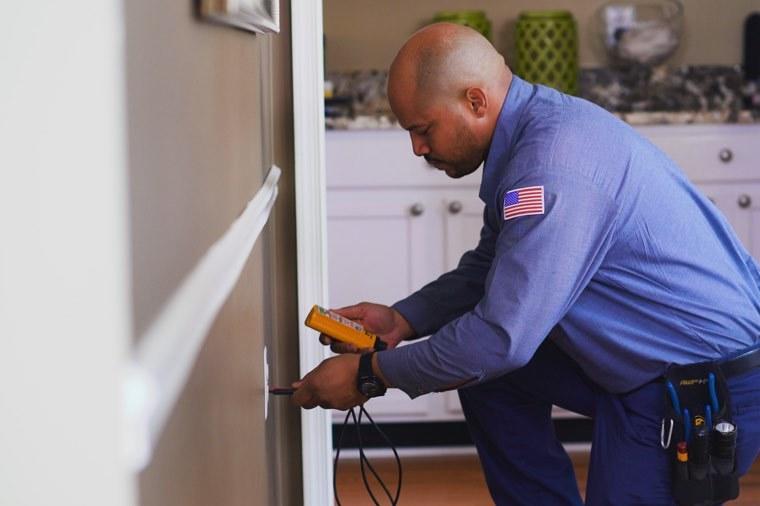 Price
What's the cost to install a whole‑home surge protector in Norfolk, VA?
The majority of surge protector installations in Norfolk, VA tend to fall within this price range:
Low

N/A

Our Average

$715

High

N/A
How Michael & Son determines your estimate
We determine if the home has a subpanel. The first thing a Michael & Son electrician will check for is whether a sub-panel has been installed in the home. A subpanel is a supplementary electrical panel powering a portion of your home. If you have a subpanel, you'll likely want that protected as well. This means an additional surge protector may be necessary.
We add in the cost of the surge protector itself. Whole-home surge protectors come with a variety of features and power levels. A surge protector's VPR (Voltage Protective Rating) and MCOV (Maximum Continuous Operating Voltage) are the two most significant factors which determine the cost of the surge protector itself.
We factor in the cost of any extended warranties. Most manufacturers will offer an extended warranty which will protect the homeowner from paying out of pocket for repairs. In some cases, they may even receive a replacement if the surge protector breaks. Most extended warranties that we encounter tend to be around 2 to 5 years.
Process
Your whole‑home surge protector install in five easy steps
Schedule your surge protector install

Schedule a whole-home surge protector installation with Michael & Son by calling our team at (757) 541-8100 or scheduling online. One of our customer service representatives will take down your information and schedule your appointment, sometimes as early as the same day you call.

Meet your licensed electrician

We'll give you a call the day before your appointment to remind you about your service visit. On the day your electrician is scheduled to arrive, we'll send you their name, a photo, and a brief bio. That way, you know exactly who will be arriving at your door.

Choose the right surge protector

The best surge protector for your home is the one that strikes a balance between desired features and budget. Our electricians carry a wide range of surge protectors and will guide you through the process of selecting one. No sales pressure is involved, we promise. Once you've found the perfect whole-home surge protector for your home, we'll get right to work installing it!

Relax while we install your surge protector

Whether this is a fresh installation or a replacement for an existing surge protector, our electricians can handle it all. Most jobs take under a day to complete, and your electricians will always test to make sure everything is working in perfect order before they leave.

Let us know how we did

Once we're confident that your system is in working order, we'll request your feedback for the job. Your opinion sincerely matters to us. And if the job wasn't up to your standards, we promise we'll do everything in our power to make it right.
Ready to Schedule a Whole-Home Surge Protector Install?