How Much Does it Cost to Install a Water Heater?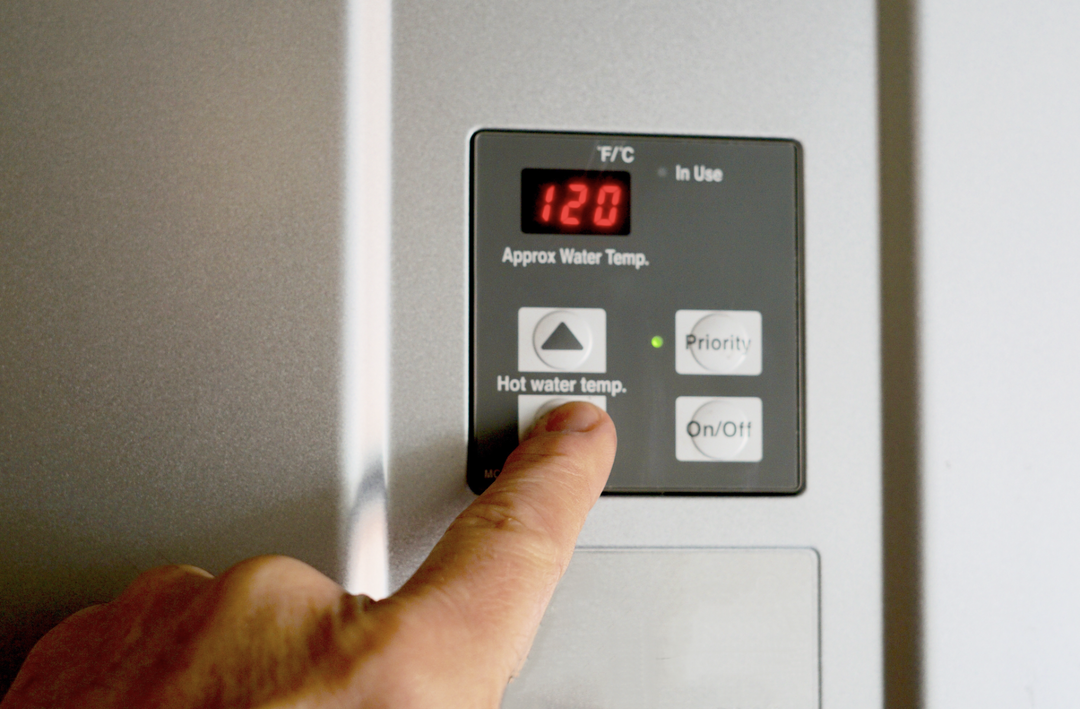 Are you in the market for a new water heater? If so, you're likely wondering, "how much is this going to cost?"
On average, the cost to install a new water heater is between $1,000 and $3,800+. However, the exact price of a water heater installation will vary depending on a variety of factors.
The major price factors that impact water heater installation prices include:
In this blog, we'll give you a rundown of these cost factors so you'll have a better understanding of how to budget for an installation.
Ready to get a water heater installation estimate now?
Give us a call today and we'll set you up with an in-person, no-obligation estimate.
Select services are not available at all locations. Contact a location near you for service availability.
Cost Factor #1: Type (tank vs. tankless)
The first step in determining the cost of installation is deciding between the two most common types of water heaters available: tank or tankless.
Tank water heater installations cost less than tankless water heater installations.
Of course cost isn't the only thing to consider when choosing between a tank or tankless water heater. Tankless water heaters only heat water as needed, while tank water heaters always have a tank of water heated and ready for use.
Other factors beyond install price to consider:
Tankless water heaters last longer (~20 years) than tank water heaters (~10-15 years).
Tankless water heaters' parts and components are easily replaceable, whereas the parts in tank water heaters aren't as easy to repair and replace.
Tankless water heaters can be up to 24-34% more efficient than tank water heaters. That's because they only expend energy to heat water when needed, rather than maintaining heated water continuously like tank water heaters.
Cost Factor #2: Size of the water heater
Water heater sizing is a reference to the volume of hot water it provides. It's important to note that the size of tank and tankless water heaters are measured differently.
Tank water heaters' size is measured by:
Tank capacity: How much hot water (in gallons) the tank can hold when it's completely full. On average, tank water heaters hold between 50-80 gallons of hot water, which is the standard amount of water for a household of 1-4 people.
First hour rating: How much hot water (in gallons) the tank will provide if the water heater is used continuously for one hour. Since the tank refills itself as hot water is used, this number will be higher than the tank's capacity.
Tankless water heaters' size is measured by:
Temperature rise: This is determined by the difference in temperature between your incoming water and your desired hot water temperature. For example, if your incoming water temperature is 60°F and your desired hot water temperature is 125°F, the temperature rise needed would be 65°F.
Flow rate: The amount of hot water (in gallons) your system can produce per minute. Flow rate is important because your water heater will need a certain flow rate if you want to use different household appliances simultaneously. For example, to use your bathroom sink and your shower at the same time, you'd need to ensure your water heater's flow rate exceeds the flow rate of the two appliances added together.
To find out the best water heater size for your home, call an expert at Michael & Son today.
Cost Factor #3: Fuel type
Generally, gas water heaters are more expensive to install than electric water heaters. However, there are potential expenses for both gas and electric water heaters that you should be aware of.
Gas water heater installation expenses:
A plumber will need to install gas lines if you don't have access to natural gas. This can cost anywhere from $1,500 to more than $3,000.
If the location of your water heater isn't close enough to your existing gas line, a plumber may need to extend it.
A plumber may need to install proper venting for your gas water heater, which can add on to your overall installation costs.
Keep in mind, while installation costs may be higher, gas water heaters (especially tankless gas water heaters) offer much lower utility bills.
Electric water heater installation expenses:
You may need to upgrade your electrical panel if it's not powerful enough to power your new water heater.
There's a possibility you'll need to pay for cosmetic repairs post-installation, such as drywall fixes, re-tiling etc.
Cost Factor #4: The plumber you hire
https://michaelandson.com/admin/entries/articles/65462?site=national&draftId=342&fresh=1#When it comes to expensive appliances like water heaters, it's important to do your research when choosing who to hire for your installation. A poor installation job can result in repeat work, costly repairs and higher monthly energy bills.
While more experienced and reputable companies will charge more for installations, you can rest assured that the installation was done correctly the first time.
Here are a few things to consider when choosing a contractor:
They provide a written estimate before any work is completed.
They guarantee their work.
They're licensed, trained and certified to perform water heater installations.
They offer a solid labor warranty. Michael & Son offers a 10 year labor warranty on all water heater installations.
Ready to install your new water heater? Hire Michael & Son
With over 40 years of experience installing water heaters, you can count on us to find and install the perfect water heater for your home and budget. Call us today to schedule your in-home estimate and ask about our 0% interest financing options.
Select services are not available at all locations. Contact a location near you for service availability.
This blog was written on Oct 15, 2020. Any pricing information is subject to change.