Types Of Air Purifiers And The Best Seasons To Use Them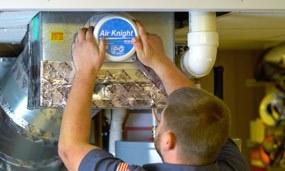 As modern homes become increasingly well insulated and airtight, one of the downsides is poor indoor air quality. In fact, according to the EPA, your indoor air can be 2-5 times dirtier than outdoor air!
Whether you have asthma or seasonal allergies, or you're simply concerned about the air quality your household is breathing, installing an air purifier can make a drastic improvement.
To help explain what an air purifier does and how you could benefit from it, in this blog, we'll review three common types of air purifiers, including:
We'll also discuss the best seasons to use them. That way, you and your family can choose the best air purification system for your unique needs.
Want a quote on a whole-home air purifier?
Make one call to Michael & Son and we'll help you breathe easy! During your in-home estimate, our experts will review all of your air purifier options. We offer 0% APR financing plans* and can even do same-day installations! *Upon approved credit. Select services are not available at all locations. Contact a location near you for service availability.
Select services are not available at all locations. Contact a location near you for service availability.
UV lights
UV (ultraviolet) light is used to kill harmful airborne pathogens like viruses, bacteria, household cleaning chemicals, and secondhand tobacco smoke.
As an air purifier, it functions like a lamp that gets installed directly within your central air conditioning system. When air passes through, the UV light will sanitize 99% of germs that may be present.
UV lights are often referred to as "UV lamps" or "UV-C lights" (the "C" just refers to shortwave ultraviolet light, which is the technical terminology). They also come in various sizes that need to be fitted to your specific HVAC system. While you can easily find and purchase a UV light online, hiring a licensed technician who knows how to source and install it correctly is best.
The best season to use a UV light
Summer is the best season to use a UV light air purifier. With the increase in humidity, your home may be prone to mold growth. But with a UV light installed in your HVAC system, it will kill off mold spores before they have a chance to circulate.
HEPA air cleaners
HEPA air cleaners are commonly used in hospitals because they can stop everything from dust, hair, pollen, smoke, bacteria, and even viruses from circulating in the air.
Although referred to as "air cleaners," they're actually high-efficiency filters that trap and collect airborne particles. And while they are a bit more expensive to install, HEPA filters have a 99.7% effectiveness rate, making them a perfect fit for families with allergies, asthma, respiratory problems, and more. They also last up to two years of normal household use before needing to be replaced.
The best season to use a HEPA filter:
Homeowners can benefit from a HEPA filter year-round— both during fall and winter when the flu and cold season is upon us, and also during spring and summer when seasonal pollen can aggravate allergies.
Polarized media filters
Using a magnetic force that attracts particles to it, a polarized media filter can trap even the tiniest of particles such as gases, odors, germs, bacteria, and viruses from circulating.
A great addition to any standard carbon filter (that traps dust, hair, and dirt), polarized media filters are easily installed directly within your existing furnace. You simply change them out a few times per year, around the same time as your standard air filter.
They're also less expensive than UV lights and HEPA cleaners, which makes them an affordable option for whole-home air purification.
Polarized media filters are also a very effective year-round solution, just like a HEPA system. The polarized media filter is at a lower price point and still captures a very high amount of particles at 97%.
Breathe easy with help from Michael & Son.
Whether you're interested in a UV light, HEPA filter, polarized media filter, or all of the above, contact Michael & Son for a no-obligation estimate. Not only is our work backed by thousands of 5-star reviews from happy customers, but we also offer excellent financing plans to help make your air quality improvement more easily affordable. For upfront prices and fast, reliable service, give us a call today! Select services are not available at all locations. Contact a location near you for service availability.
Select services are not available at all locations. Contact a location near you for service availability.
This blog was written on Dec 01, 2021. Any pricing information is subject to change.