Sewage Cleanup Services in Virginia, Maryland, North Carolina & DC
Schedule Your Sewage Cleanup Today.
Only Michael & Son guarantees a 1-hour response time and 24/7 availability for sewage cleanup emergencies. So when a broken sewer pipe or storm surge creates an unlivable situation on your property, Michael & Son is just a phone call away. We'll even work directly with your insurance company to handle payment logistics, so you don't have to.
1-hour response time guarantee
Certified restoration professionals on staff
We work directly with your insurance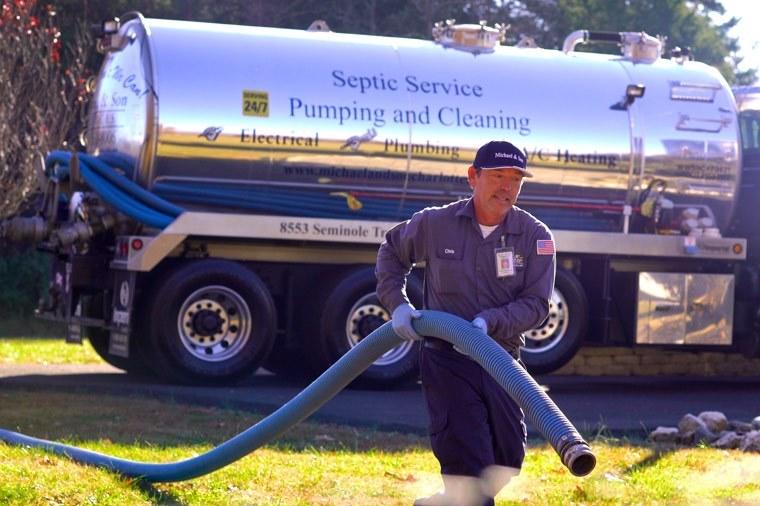 Price
How much does sewage cleanup cost in Virginia, Maryland, North Carolina & DC?
The price for sewage cleanup services varies widely, depending on the project. To get an accurate estimate for your project, schedule our team to provide an on-site sewage cleanup quote.
How Michael & Son determines your water damage restoration quote
We assess the property. The cost of sewage cleanup depends on how much of the property is affected and where the damage is most severe. A sewage backup in the backyard, when managed quickly enough, is far less expensive than a major sewage cleanup inside the home itself.
We calculate labor and supply costs. After we've performed our assessment, the next step is to determine what is salvageable and what needs to be replaced. Significant damage to drywall, flooring, and furnishings, as well as the need to perform water restoration services, are key factors in determining labor and supply costs.
We look for the presence of mold. If mold is present due to water damage, our team will need extra time and effort to provide mold remediation services. This will increase the cost of the project. However, because Michael & Son offers mold remediation in-house (unlike competitors), we can save you the time and hassle of hiring a separate company for this job.
Process
Your sewage cleanup service in four easy steps
Schedule your quote.

Michael & Son is here for you 24/7 and guarantees a 1-hour response time for emergency sewage cleanup. So call us right away at (800) 948-6453 and we'll get right to work assessing the damage.

We assess the damage and give you an honest quote.

A restoration expert from Michael & Son will arrive at your home and perform an on-site inspection. Even if sewage and water are hidden from view, we have the tools to detect them both. Our experts will quickly determine the cause and extent of the damage and give you a fixed-price quote for the work.

Relax while we completely restore your home.

Our priority is to get the sewage out of the home and resolve the issue that caused it. After that, it's on to restoring the home to its original state. This may include demolition work or landscaping, including the removal and replacement of drywall and tile.

Let us know how we did.

We want you to have a great experience with Michael & Son. That's why all of our restoration specialists will ask you for your feedback as they're finishing up the job. This feedback helps us become a better restoration company. And if something went wrong, it helps you have a voice and gives us a chance to correct our mistakes.
Ready to schedule your sewage cleanup project?