Gas Line Repair in Charlotte, NC
Schedule Your Gas Line Repair Today.
Michael & Son has been repairing gas lines for homeowners across the east coast for over four decades. And our experience is just one of the many reasons we've earned a reputation in Charlotte as one of the most reliable plumbing and home service companies around.
Reliable, On-Time Service
Experienced, licensed plumbers
500+ service trucks on the road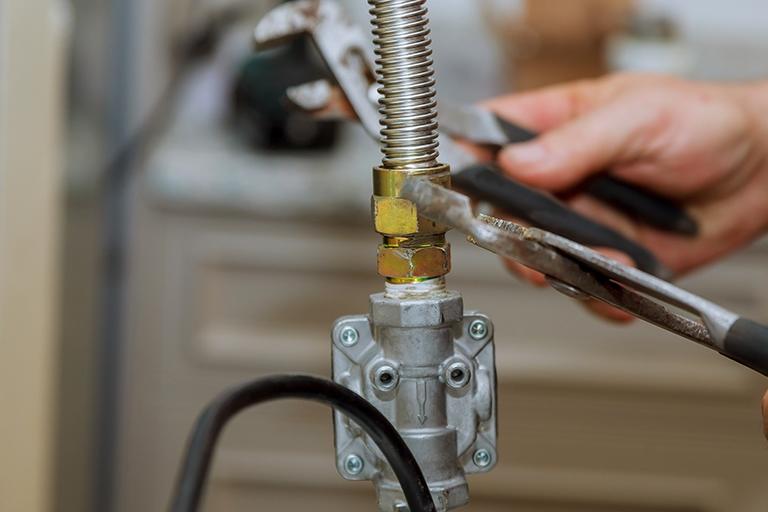 Price
What's the cost of repairing a gas line in Charlotte, NC
The price varies widely depending on a variety of cost factors, such as the location of the gas line and extent of damage. Gas line repairs in Charlotte tend to fall within this price range:
Low

$375

Our Average

$650

High

$1,200
How Michael & Son determines your estimate
We assess your home's gas line repair needs. Your plumber will first have to review the location of the gas line and the cause of the damage before pricing out an estimate.
We determine the extent of the damage. If your gas lines are very old or the damage to them is severe enough, the job may require a replacement and installation of a new gas line. Don't worry, unlike competitors, we'll never push you to replace a line if you don't really need it.
We estimate the number of hours for the job. If the gas line is located in a hard-to-reach place like under a driveway or in a tight crawlspace — the more time a plumber will spend accessing the gas line and doing repairs, which can increase your overall repair cost. We always clearly define labor costs in our estimates.
Process
Your gas line repair in four easy steps
Schedule your estimate & meet your plumber

Call (704) 594-5420 or schedule an appointment online. Our customer service division will then assign an expert plumber to your project according to your availability. Keep your eye out for an email with your plumber's name, photo, a short bio and a few fun facts about their background. We'll also give you a quick courtesy call the day before your appointment as a reminder.

Let us assess the damage and provide a quote

Your plumber will work quickly to identify the gas line damage and provide you with a clear estimate. Depending on the repairs needed, your plumber may need to schedule an additional appointment. However, in most cases, our plumbers come prepared to handle just about any type of gas line repair possible.

Get your gas line up and running

Gas leak? No thanks! Our plumbers will work fast to get your gas line up and running correctly. If your specific repair requires permits and inspections, we'll coordinate everything for you. Plus, while we're working in your home, we'll protect your flooring with shoe covers and lay down drop cloths wherever we're working.

Let us know how we did

Your opinion sincerely matters to us. That's why our plumbers will request feedback from you at the end of your project. If you had any issue at all, just let us know and we'll do everything we can to make it right. Although the majority of our jobs are a huge success, we're always looking for ways to improve.
Ready to Schedule Your Gas Line Repair?