How Much Does It Cost to Install a Garbage Disposal?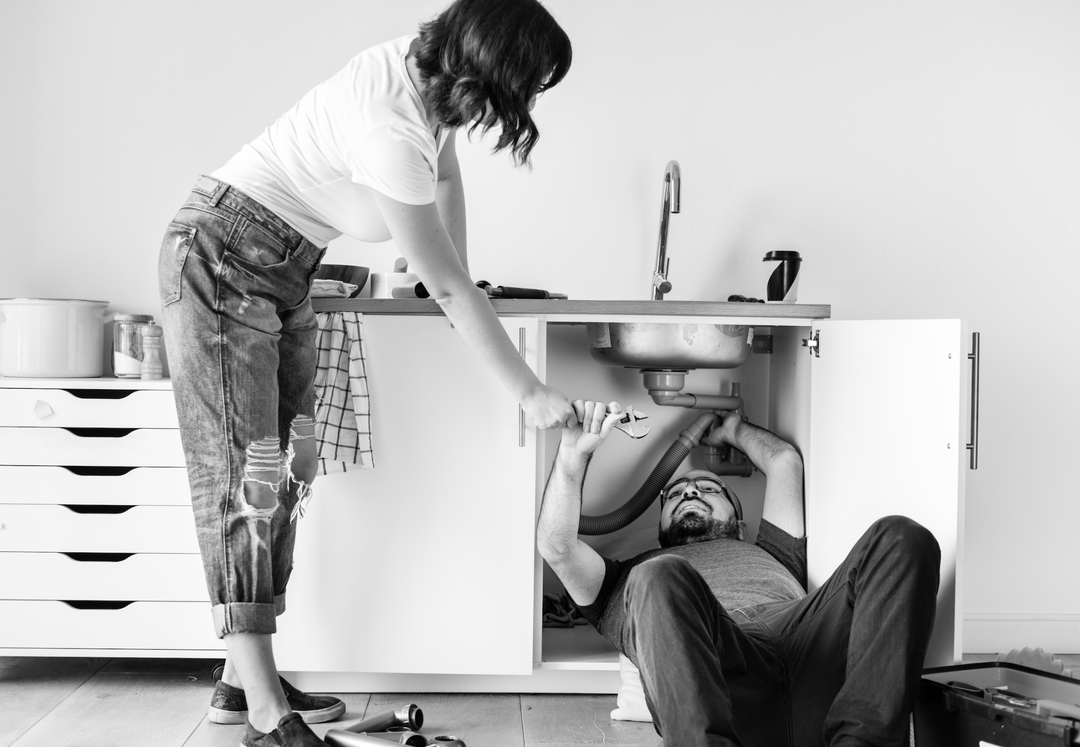 On average, a new garbage disposal costs about $600. But installation costs can vary depending on a number of factors, with prices ranging from as low as $400 to as high as $1,100.
Here are some price factors to consider when installing a new garbage disposal:
In this blog, we'll go over these different factors so you'll have the information you need before you pull the trigger on a new garbage disposal.

Need a garbage disposal install? Call Michael & Son.
For garbage disposal installations, call us at 240.608.4020. Our expert plumbers are available 7 days a week to install brand new garbage disposals.
Select services are not available at all locations. Contact a location near you for service availability.
Cost Factor #1: The feed type
There are two different types of disposals: continuous feed disposals and batch disposals. As far as cost, continuous feed disposals are less expensive than batch feed disposals.
Here's a breakdown of each...
Continuous feed disposals turn on and off with a wall switch. They are:
More common and easily available.
Less expensive than batch feed disposals.
Easy to use.
Batch feed disposals require a stopper lid in order to activate, making it impossible to start while someone's hand is inside of the drain/near the unit. They are:
Generally safer to use as the stopper lid prevents accidental mishaps.
More expensive than continuous feed disposals.
Less commonly available.
Cost Factor #2: Size of the motor
The larger the motor size, the more expensive the garbage disposal will be.
A garbage disposal motor's size is measured in horsepower (HP). Most standard garbage disposals range between ⅓ HP and 1 HP.
Motors between ⅓ and ½ HP work well for the average household of 1-4 people. If you rarely use your disposal or are looking for a budget-friendly option, a motor within this range is your best bet. While it's less expensive, motors within this range are prone to jamming if used too frequently.
If you have a large family, use your garbage disposal frequently and don't want to worry about what goes down the disposal, we recommend paying a little more for a larger motor. While motors between ¾ and 1 HP are slightly more expensive, they will operate smoother than models with a small motor and you'll experience fewer jams.
Cost Factor #3: Type of steel
Most garbage disposals are made of either stainless steel or galvanized steel. When it comes to installation costs, stainless steel garbage disposals cost more than galvanized steel disposals.
Stainless steel garbage disposals are strong, durable and have the tendency to last much longer than disposals made of galvanized steel. Stainless steel is the preferred choice among commercial establishments and is recommended for households that require a heavy-duty disposal or for those who use their garbage disposal frequently.
Galvanized steel garbage disposals are the less expensive option of the two. While they're cheaper than stainless steel, disposals made of galvanized steel don't hold up as well and are more prone to corrosion and rusting.
Cost Factor #4: Professional vs. DIY installation
Whether or not you hire a professional for your installation will impact your installation costs, but can also have an effect on how much you spend on your disposal down the road.
Let us explain…
Hiring a professional plumber to install your new garbage disposal will raise the overall cost of your installation.
While attempting a DIY installation is cheaper, it can end up costing you more in the long-run. For example, forgetting to shut off the water supply during the installation can cause serious problems. Garbage disposal installations also require electrical knowledge. Not knowing the ins and outs of certain electrical connections can be dangerous and damaging to your unit.
When you hire a professional, they'll make sure that all of the connections are secure and the installation is completed according to the specifications of the manufacturer. Plus, if you have a professional install the unit for you, the service will often be backed by a labor warranty. That means if the disposal needs repairs down the road, a labor warranty can come in handy and save you money.
Ready for a brand new garbage disposal? Call Michael & Son today
If you're in need of a new disposal, we've got you covered. Our expert plumbers can complete your installation job in an hour, so you'll be up and running in no time. With over 3,000 verified 5-star reviews, you can bet you'll get the best experience possible.
Select services are not available at all locations. Contact a location near you for service availability.
This blog was written on Oct 15, 2020. Any pricing information is subject to change.