How Much Does A Whole‑House Air Cleaner Cost?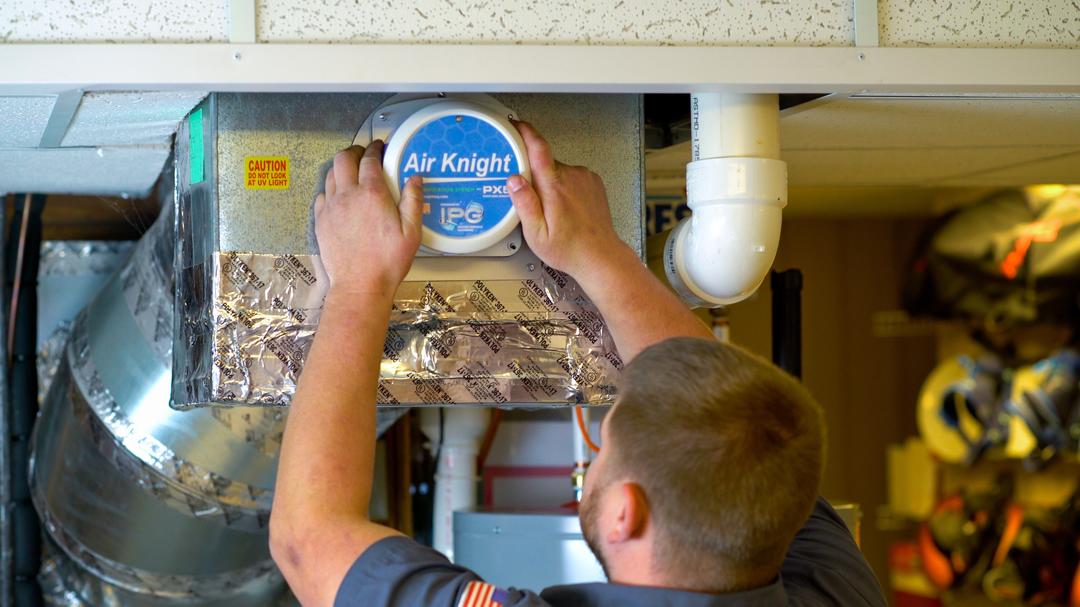 On average, a whole-house air cleaner ranges from $675 to $1,500. While that may seem like a lot to spend, they're definitely worth the investment. With modern homes becoming increasingly airtight, the EPA estimates that your indoor air quality can be 2-5 times more polluted than outdoor air!
Whether your household suffers from allergies, asthma, respiratory problems, or you're simply concerned about the quality of your air, the good news is that an air cleaner can help you breathe cleaner, better air.
To better understand the cost, let's review 3 common types of whole-house air cleaners:
Then, let's discuss other key cost factors, such as:
Installation and maintenance
The contractor you hire
Want to Speak With an Air Quality Specialist? Call Michael & Son!
Our licensed and experienced HVAC professionals will review your air quality concerns and then recommend the best air quality solutions for your needs and budget. We also offer upfront pricing estimates, excellent financing plans, and unmatched customer service.
Select services are not available at all locations. Contact a location near you for service availability.
HEPA Cleaners - $1,500 Avg.
Commonly used by hospitals, HEPA cleaners can remove up to 99.7% of airborne contaminants— including microscopic matter. For this reason, they tend to be one of the most expensive whole-house air cleaners, averaging about $1,500.
Installed in tandem with your HVAC system, HEPA cleaners are filters made of tightly woven fiberglass fibers. As air circulates throughout your air ducts, the filter will trap and collect all kinds of pollutants, including dust, hair, pet dander, smoke, bacteria, and even viruses from circulating.
Better still, they can last up to two years before needing to be replaced. So if you're looking for a low-maintenance air purification system, HEPA cleaners are a great option.
Visit our HEPA cleaner page or schedule an in-home estimate to learn more. We'll send a qualified air quality specialist to discuss your unique air quality concerns.
UV Light Cleaner - $1,200 Avg.
Also used by hospitals, UV (or "ultraviolet") light cleaners kill up to 99% of bacteria, viruses, and other harmful pathogens from your air. So if you're concerned about germs, mold spores, odors, and other toxins, UV lights are an excellent option for maintaining healthy indoor air quality.
UV light cleaners cost about $1,200 and must be installed directly within your HVAC system. You'll also need to pay an extra $35 to swap the bulbs out monthly (depending on usage).
At Michael & Son, we offer the most advanced UV cleaners on the market. In fact, we install the same ones used by hospitals worldwide.
To learn more, visit our UV light cleaner page, or book an in-home estimate directly through our website. We offer upfront prices and 0% financing options*.
*Upon approved credit.
Polarized Media Filters - $675 Avg.
A polarized media filter is an excellent option if you're looking for the most economical air cleaner possible. Averaging about $675, they far exceed your standard carbon air filter.
Polarized media filters use a magnetic force to trap microscopic matter such as gases, odors, germs, bacteria, and even viruses.
Installed directly within your furnace, the filter only works when you're running the heat. However, a polarized media filter will dramatically reduce your chances of contracting a cold, flu, or other respiratory viruses during the winter months.
Installation and Maintenance
In addition to the upfront purchase price, whole-house air cleaners need to be professionally installed and regularly maintained.
Air Cleaner Installation Cost Factors:
Custom-sizing. Air purifiers like HEPA filters need to be custom-fitted to the size of your HVAC system. So if you attempt a DIY installation to save a few bucks, you could end up permanently damaging your heating and cooling systems. Not only could this result in an expensive repair, but you'll also likely need a brand new HEPA filter, which negates any potential savings.
Direct-from-manufacturer pricing. Often, professional HVAC contractors will pass on direct-from-manufacturer pricing on the cost of your air cleaner. So even though you'll pay more to have a licensed professional do the install, you could save on the purchase price of your air cleaning product, which may reduce your overall costs.
Maintenance Cost Factors:
Replacements. No matter the type of whole-house cleaner you choose to install, you will need to pay to replace it at some point.
HEPA cleaners: Last about 2 years
UV lights: Need to be swapped out every 30 days
Polarized media filters: Should be replaced 3-4 times per year
Moreover, if you end up needing to replace your entire HVAC system, you'll probably need to pay for the re-installation of your existing air cleaner products.
The Contractor You Hire
The cost of your whole-house air cleaner will significantly depend on the contractor you hire to install it for you.
Like most home services, it pays to hire a trained professional with years of experience. That way, you get the job done right the first time and don't need to worry about paying double to have someone fix shoddy labor.
When searching for a trustworthy air quality contractor, look for companies that have:
Proof of HVAC licensing and insurance
10+years of experience
Recent 5-star reviews
A 100% satisfaction guarantee
Want a Quote For a Whole-home Air Cleaner? Call Michael & Son!
We'll send a licensed air quality specialist straight to your home for a no-obligation, upfront estimate. No matter your concerns, rest assured we'll help your household breathe cleaner, better air. Backed by industry-leading warranties and thousands of 5-star ratings, give us a call today, and we'll take excellent care of you.
Select services are not available at all locations. Contact a location near you for service availability.
This blog was written on Jan 13, 2022. Any pricing information is subject to change.