How Much Does a Furnace Repair Cost?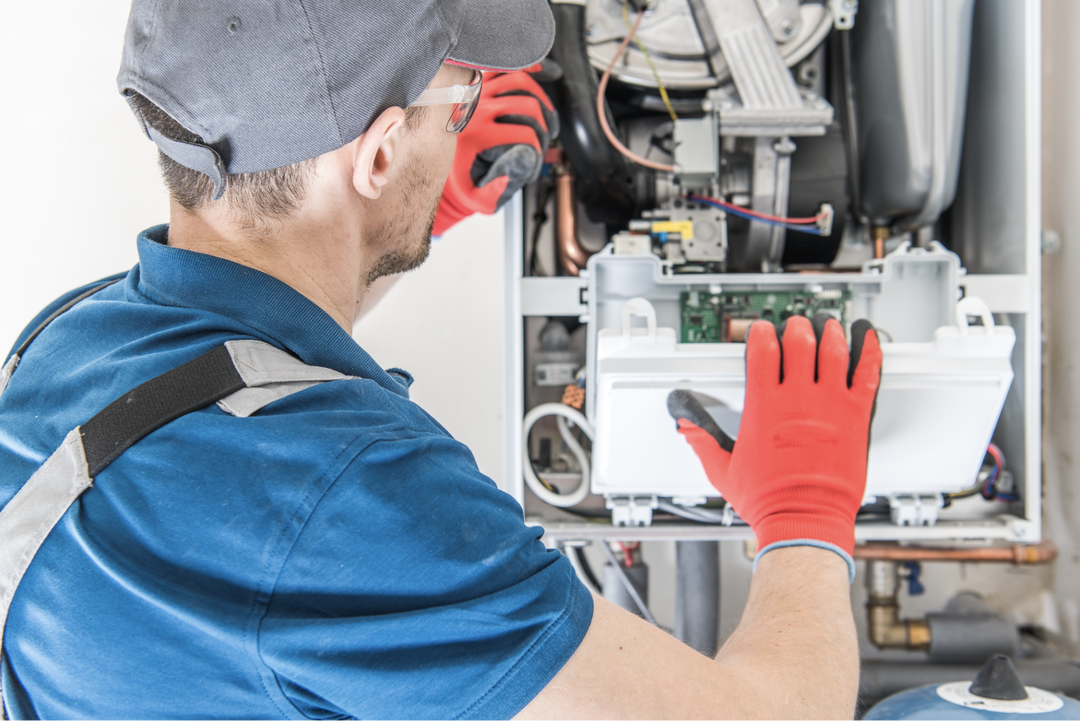 Experiencing issues with your furnace? Think you may need some professional help? If so, you're probably wondering how much a furnace repair costs...
While it's impossible to provide an exact price without having a professional diagnose the problem, furnace repair costs can range anywhere from $59 to $900+.
Yes, that's quite a large price range — but there are quite a few factors that can impact the cost of your repair, including:
To help you better understand what you can expect during a furnace repair, we'll go over these different factors in greater detail.
Need a quote for a furnace repair ASAP? Call Michael & Son.
Give us a call today and we'll set you up with an in-person, no-obligation estimate.
Select services are not available at all locations. Contact a location near you for service availability.
Cost factor #1: Type of repair
The more labor your repair requires, the more it will cost you.
Furnaces are made up of dozens of components, all of which have the potential to go bad at some point. Some are simple, quick and cheap to fix or replace, while others are more challenging and expensive. The cost to repair your furnace will depend on which component(s) is in need of attention.
For example, you could be having issues with your thermostat. In most cases, a faulty thermostat would be considered a pretty simple and inexpensive repair. A repair may be as simple as replacing the thermostat's batteries or, at most — replacing the thermostat.
On the flip side, a dead or dying heat exchanger is a more serious issue and would cost more to repair. With these more complex issues, you'll end up paying more for time and replacement parts.
Cost factor #2: Replacement parts
If the faulty component is unable to be repaired and needs to be replaced, you'll end up paying more.
Replacements cost more because you'll need to pay for the new part itself, as well as the additional labor required to install it. You can also expect to pay more if more than one part is broken, or if an essential part of the furnace is damaged and needs to be replaced.
Depending on the make and model of your furnace, some replacement part(s) may be in limited supply, which can also increase cost. This is more typical for older furnaces.
Cost factor #3: Existing warranties
When your furnace was first purchased and installed, parts and labor warranties were likely included in the total cost. If these warranties are still valid, your furnace repair will cost less.
Before you schedule your repair appointment, double-check both types of warranties to see if they're still valid. If they are, you can save a lot of money.
Parts warranties can last up to 10 years and come from the manufacturer of your furnace. This type of warranty covers the cost of any faulty parts from the time of installation.
Even if you're within your warranty's time period, your parts warranty may be void if:
The furnace was never registered with the manufacturer
The furnace was ever repaired with off-brand parts
Your furnace hasn't been professionally-maintained on a regular basis
Labor warranties are provided by the company who first installed the furnace and cover the cost of labor for repairs needed due to installation errors. Contact the company who installed your furnace for more details and to determine whether your labor warranty is still valid..
Cost factor #4: The contractor you hire
Who you hire to handle your furnace repair can significantly impact your overall cost.
Typically, more well-known, experienced and reputable contractors charge more for their services. That's because they have the industry knowledge and professional experience to back up their prices.
By paying a little more for a high-quality contractor, you'll likely be happier with the end-result and avoid problems down the road such as expensive, repeat work.
We recommend finding a company or contractor that:
Is NATE-certified, licensed and insured.
Provides an upfront, written estimate.
Guarantees their work.
Call Michael & Son for your furnace repair today
If you're dealing with furnace issues, give us a call for same-day emergency service. Our NATE-certified technicians are trained to repair all makes and models, so you can feel 100% confident that we'll take care of your furnace problem.
Select services are not available at all locations. Contact a location near you for service availability.
This blog was written on Oct 15, 2020. Any pricing information is subject to change.