Holiday Electrical Safety Tips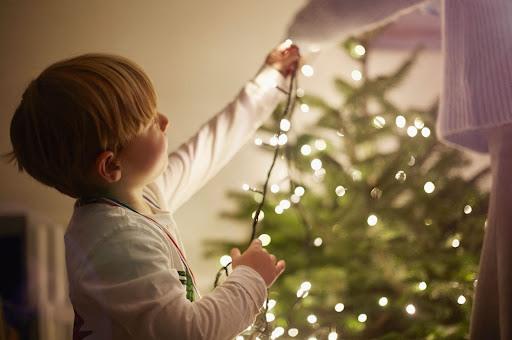 Did you know that the National Fire Protection Agency reports an average of 160 Christmas tree fires and 790 fires related to other holiday decorations every year?
To keep your home from joining this list, adhere to the following holiday electrical safety tips:
We'll review these guidelines in further detail to ensure all your questions about electrical safety this holiday season are answered.
Need extra outlets to accommodate your holiday lights and decorations?
Call Michael & Son at (800) 948-6453 to schedule an outlet installation. With convenient same-day service, we'll add new outlets quickly so you can get your home decorated in time for Christmas!
Select services are not available at all locations. Contact a location near you for service availability.
Inspect All Holiday Decorations Each Year
Like most people, you probably put your holiday decorations in a box each January and don't take them out again until after Thanksgiving. Because holiday decorations can become damaged and wear out over time, make sure to inspect them before plugging any of them into an electrical outlet.
Be on the lookout for broken light bulbs, worn or frayed electrical cords, and damaged electrical plugs. While these issues might seem harmless, these items could easily start a fire if accidentally placed close to anything flammable, such as rugs, paper decorations, or even a dry Christmas tree.
Choose a Fire-Resistant Artificial Tree
If you use an artificial Christmas tree, make sure you purchase a tree that is fire resistant.
Flammability requirements were increased for artificial trees in 2010, so if you decorate an older artificial tree each year, you may want to replace it with a newer, safer tree.
In addition to checking your tree for a fire-resistant label, it's a good idea to review the safety certifications of any electronic decorations you put up this holiday season. Electronic decorations should be certified by a safety organization, such as Underwriters Laboratories, to ensure they don't pose unnecessary fire risks.
Don't String More Than Three Strands of Lights Together
Unless it's specified on the box, don't string more than three strands of holiday lights together when decorating your home or tree. Depending on your outlet capacity, stringing more than three sets of lights together can blow a circuit.
If you want to use more lights, consider purchasing holiday lights with LED bulbs. LED bulbs use less wattage, meaning you can string more strands together without overloading your outlets. Additionally, LED bulbs create less heat, last longer, and are more energy-efficient than typical string light bulbs.
Note: The same rules apply if you're decorating with lights outside your home. When putting up outdoor lights, make sure the lights are intended for outdoor use.
Don't Overload Electrical Outlets
Just like with holiday lights, plugging too many high-wattage holiday decorations into one outlet can cause you to blow a circuit. Instead, plug them into a power strip with a circuit breaker.
You also need to be mindful of the placement of electrical cords. Avoid running any electrical cords under rugs, where they could overheat, or under furniture where they could become pinched or tear.
Turn Off Holiday Decorations When Going To Bed or Leaving the House
Always turn off your holiday decorations when you leave the house or go to bed. Leaving your decorations turned on when you're not home, increases the risk that a spark will develop into a devastating fire.
In the event a fire does occur while you're away from home (whether due to a neighbor's lights or other circumstances), having your decorations turned off will increase the chances of the fire being managed before it gets out of control.
Miscellaneous Safety Tips
Finally, follow these additional safety tips to ensure you have a safe and happy holiday.
Candles: Use battery-operated candles instead of real ones. Candles cause more than a third of all home decoration fires. If you do use real candles, keep them at least 12 inches away from anything flammable.
Outdoor lighting: Before getting on a ladder to hang outdoor lights, check for overhead power lines in the vicinity.
Real Christmas trees: If your family has a real Christmas tree, water it every day during the holiday season to ensure it doesn't get too dry. After Christmas, promptly dispose of your tree. Dry Christmas trees are very flammable and can catch fire if within 3 feet of any heat source.
Smoke alarms: Additionally, since the holidays do increase the number of home fires, make sure you have an operational smoke alarm in every room.
Nobody wants to think about fire safety over the holidays, but by taking a few simple precautions you'll significantly reduce the risk of a fire interrupting time with your loved ones this year.
Enjoy a Safe and Happy Holiday Season, with Help from Michael & Son.
Whether you need electrical outlet installations, heating maintenance, or more, contact Michael & Son and our team will complete the job to your 100% satisfaction. Give us a call at (800) 948-6453 or schedule an appointment online today.
Select services are not available at all locations. Contact a location near you for service availability.
This blog was written on Jan 13, 2022. Any pricing information is subject to change.