5 Reasons Why Your Furnace Smells When You Turn It On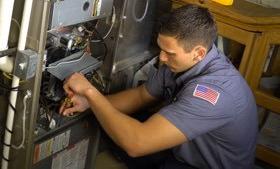 As the heating season approaches, homeowners may notice a smell coming from their furnace, especially if it's the first time they have turned it on in a while.
In most cases the smell will dissipate. However, identifying the source of the smell can eliminate the risk of a more serious problem snowballing into an expensive repair down the road.
Professional furnace maintenance is the best way to ensure that your heating system is operating safely. To help you troubleshoot why your furnace smells when you turn it on, we'll take a look at 5 common culprits below:
Need a heating system repair? Contact Michael & Son.
We'll send a licensed heating pro straight to your home for a no-obligation repair estimate. We offer flat-rate pricing, hassle-free service, and guaranteed customer satisfaction. *Select services are not available at all locations. Contact a location near you for service availability.
Select services are not available at all locations. Contact a location near you for service availability.
Dust and dirt buildup
After months of inactivity, it's common for a furnace to smell when you first turn it on. Not to worry, this is normal.
During the summer months, dust and dirt will naturally settle around your furnace. As it runs, the dust and dirt will burn off, producing a burning smell.
The smell should go away after the first few times you run it. But if it doesn't and you're concerned something is wrong, contact a licensed HVAC technician for professional HVAC maintenance. If repairs are needed, it's important to fix them sooner rather than later.
Clogged air filter
If your air filters are clogged, you'll have even more dust and dirt buildup in your furnace. And as we mentioned above, this can lead to a burning smell.
To keep your heating system operating safely, it's best to have your air filters cleaned or replaced regularly. If clogged air filters go too long without fixing, you could end up with other furnace problems and see increased energy costs as your equipment will need to work harder than usual.
At Michael & Son, we offer a comprehensive HVAC tune-up for only $59. During your maintenance visit, our licensed HVAC pros will check to see if your air filters are dirty. We'll also ensure that all parts are working smoothly.
Electrical problem
If your furnace has an electrical problem (such as frayed wiring or a failing motor), you may smell a mechanical burning odor.
Newer models typically have built-in safeguards against electrical issues, which will trigger the furnace to shut off if electrical problems are detected. However, this isn't always the case.
If you smell a metallic burning odor, turn off your heater and call a licensed HVAC pro straight away. You don't want to risk an electrical fire!
Cracked heat exchanger
If you smell an odd chemical odor, it could be a cracked heat exchanger.
The heat exchanger is a critical component of every furnace. Not only is it responsible for heating your air, but it also eliminates toxic combustion fumes from circulating in your home's air ducts.
If your heat exchanger has a crack, the odd smell you're detecting could be poisonous Carbon Monoxide gas (a by-product of heat combustion).
To prevent a potential health hazard for you and your family, turn off your heater ASAP and call a qualified heating technician for assistance.
Gas leak
You could have a gas leak if you have a gas furnace and smell something foul (almost like rotten eggs).
Many furnaces run on natural gas, which is an odorless but toxic fuel. To help homeowners detect a leak, suppliers will add a strong-smelling chemical called "Methyl Mercaptan." Because of its foul stink, it grabs your attention easily.
Both natural gas and Methyl Mercaptan are toxic to ingest, so if you suspect a gas leak is at play, leave the house immediately. Once safely outside, call 911 or your local gas safety hotline. And after the premises are safe, hire a licensed and experienced gas line professional to inspect your HVAC system for repairs.
Want a furnace repair done right? Contact Michael & Son.
During your in-home estimate, one of our NATE-certified heating pros will thoroughly inspect your heating equipment. Once we've identified the problem, we'll provide multiple repair options suited to your needs and budget. With expert advice and fast, dependable service, it's no wonder we've earned more than 7,000 5-star reviews!
Select services are not available at all locations. Contact a location near you for service availability.
This blog was written on Dec 01, 2021. Any pricing information is subject to change.