Water Heater Installation & Replacement in Charlotte, NC
Schedule Your Tank or Tankless Water Heater Installation or Replacement Today.
Special Financing Available
Upfront, honest pricing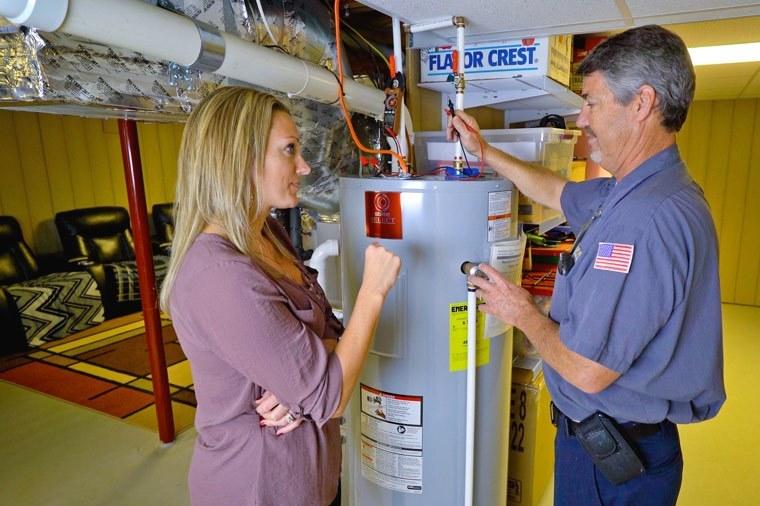 Service Details
Why choose us for your tank or tankless water heater installation?
For over four decades, Charlotte homeowners have trusted us to provide them with expert hot water heater recommendations and to install their systems seamlessly. We have over 5,000+ verified 5-star reviews...but don't just take our word for it. Let us show you why Charlotte homeowners trust us as their go-to plumbing partners.
Price
What's the cost of installing a tank or tankless water heater in Charlotte
The majority of tank and tankless water heater installations in Charlotte tend to fall within this price range:
Low

$1,800

Our Average

$2,500

High

$6,500
How Michael & Son determines your estimate
We consider your household's hot water needs. When installing a new water heater, it's imperative that you choose the right type and size for your household's hot water needs. Tankless water heaters will generally be more expensive than tank water heaters, and the "larger" the water heater, the more it will usually cost. However, you want to ensure that you're getting the right solution for your home, so an expert plumber will help you determine exactly which size and type of water heater is best for you.
We talk about water heater specifics. There are many details to consider when choosing a water heater, like efficiency, type (tank vs. tankless), additional features, and more. One of our expert plumbers will speak with you about your needs, preferences and budget, to determine the specific cost of your new water heater.
We review parts and labor warranties. When you're installing a new water heater, you have the option to purchase extended parts and labor warranties. These extended warranties will increase your installation cost, but could save you lots of money on repairs in the future.
Learn more about water heater costs in Charlotte,

NC.
Process
Your tank or tankless water heater installation or replacement in five easy steps
Meet your expert plumber

We understand that it can be uncomfortable to let a stranger into your home, so we ensure that when your plumber arrives, they aren't a stranger. The day before your appointment, you'll receive an email with the name of your plumber as well as their photo, a short bio, and any relevant licenses. We'll also send you a quick reminder regarding the time of your appointment, just in case.

Find the right water heater for your home

We'll spend time discussing your household's hot water needs, your budget and your preferences to find the perfect type, size and brand of water heater for you.

Get your system installed

Once you've finalized which water heater you want and have agreed to the estimate we've provided, we'll schedule an installation time. Water heater installations usually happen about 3-5 days after your initial consultation. Most of the time, we can install your tank or tankless water heater in just one day, and will protect your Charlotte home by laying down drop cloths and wearing shoe covers during your installation.

Let us know how we did

We want your honest feedback...and after your tank or tankless water heater installation is complete, we'll ask for it. If there were any issues or parts of your service that you feel could have been handled differently, please let us know. We'll do everything we can to ensure you're happy with your water heater installation service.