Sump Pump Repairs in Charlotte, NC
Schedule Your Sump Pump Repair Today.
While sump pumps are relatively low-maintenance devices, they can break down just like any other home appliance. If your sump pump won't turn on, is making strange noises or producing a musty odor, contact Michael & Son. Our expert plumbers will identify the issue and get your sump pump up and working again in no time. Call Michael & Son today.
Special Financing Available
Honest installation estimates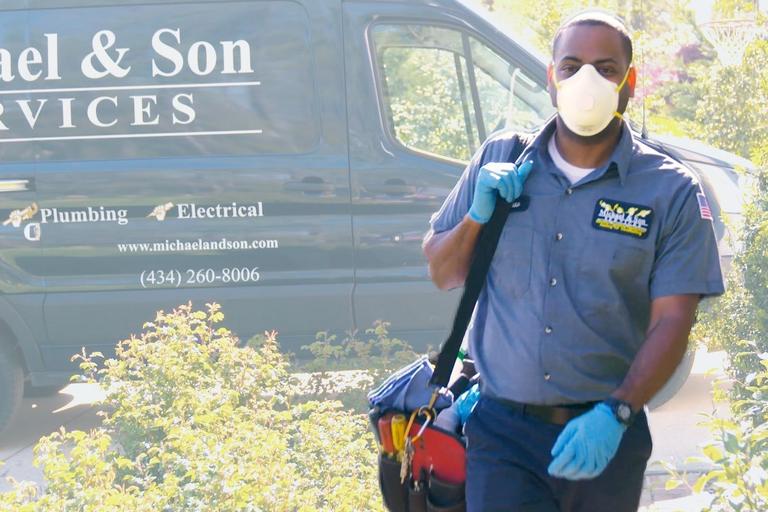 Price
Cost of a sump pump repair in Charlotte, NC
Sump pump repairs in Charlotte, NC cost $289 on average.
Low

N/A

Our Average

$289

High

N/A
How Michael & Son determines your estimate
We evaluate your home's sump pump needs. Before we can give you an honest estimate, we'll assess your sump pump's current condition. Sump pump repair costs can fluctuate depending on a variety of factors, including:
The type of sump pump you choose (submersible vs. pedestal)
The size of the sump pump you need
Whether you're installing a battery for added security
Process
Repair your sump pump in four easy steps
Meet your expert plumber

At Michael & Son, we want you to be comfortable with our plumbers before they step into your home. Before your appointment, you'll get an email with your plumber's photo, name, bio and any relevant trade licenses. That way, your plumber will be less of a stranger on the day of your appointment.

Get your sump pump repaired

Your plumber will assess your sump pump to identify the problem and provide you with an upfront quote of the estimated repair cost. Once agreed upon, your plumber will get to work. Depending on the problem, most repairs take an average of 1-2 hours.

Let us know how we did

Whether the job was a huge success or you think there's something we could've done better, we want to know about it. If you had any issues at all, just let us know and we'll do everything we can to correct our mistake.
Ready to Schedule Your Sump Pump Repair?